by Odette Gaudet, Chickadee Chapter of Needle Arts
"Memory" is defined as the power of remembering; the time during which past things can be remembered; that which is remembered (Highroads Dictionary, 1963). "Remember" is defined as to call to mind; to keep in mind; to use the power of memory; to recollect.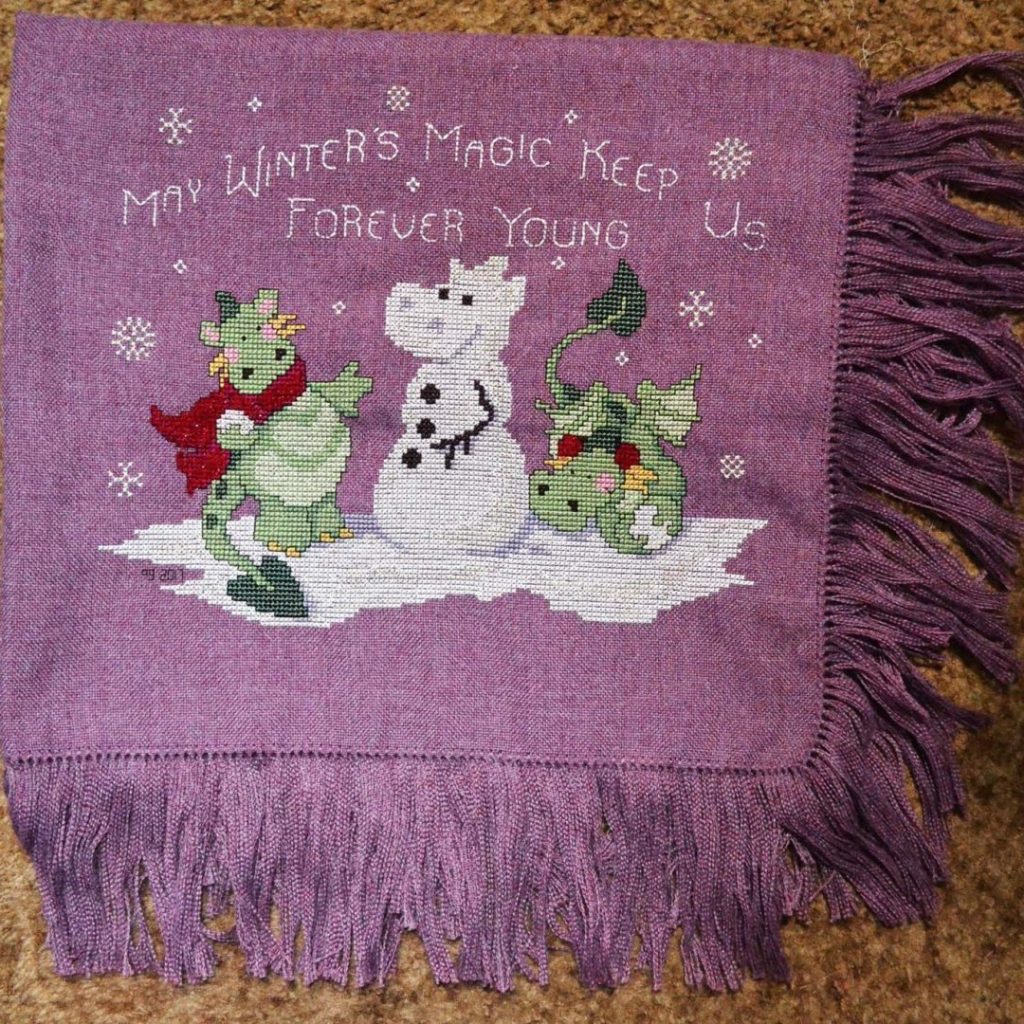 Most often, we think memories are only of the past, something that happened long ago. Memories can have a place in the present and future. Chickadee Chapter of Needle Arts had two active members pass away. Susan Pickett at age 65 in November 2013, and Helen Crawford at age 88 in June 2015. As a small guild, this was extremely sad and hard as both women played a strong role in our group.
Susan Pickett loved Hardanger. She stitched incredibly beautiful pieces. Her legacy project of stitching a piece for each family member at her passing was incomplete. Guild members finished the remainder. What we learned has been invaluable. Sue liked to change one thing. She would change one colour, for example, white thread on red fabric or blue thread on white fabric. The results were always stunning. She would also change the size or shape. If the piece were square, she'd make it a rectangle. Changing one or two elements can completely alter the look of a project. It's a great lesson going forward and applies to other projects and life.
Helen Crawford loved to stitch. She especially loved cross stitch and mill fabric from Humphrey Textiles, a textile mill in Moncton. The mill plant made fabric of 18-count that was most often used on cubicle wall dividers. When Helen was younger, she could buy a large bag of remnants for five dollars. She stitched everything on this fabric. She made one of everything for each member of her family – pillows, afghans, placemats, wall hangings, bell pulls, coasters, table runners, and ornaments. Anything you can imagine until family members said, "Stitch for yourself, we have enough."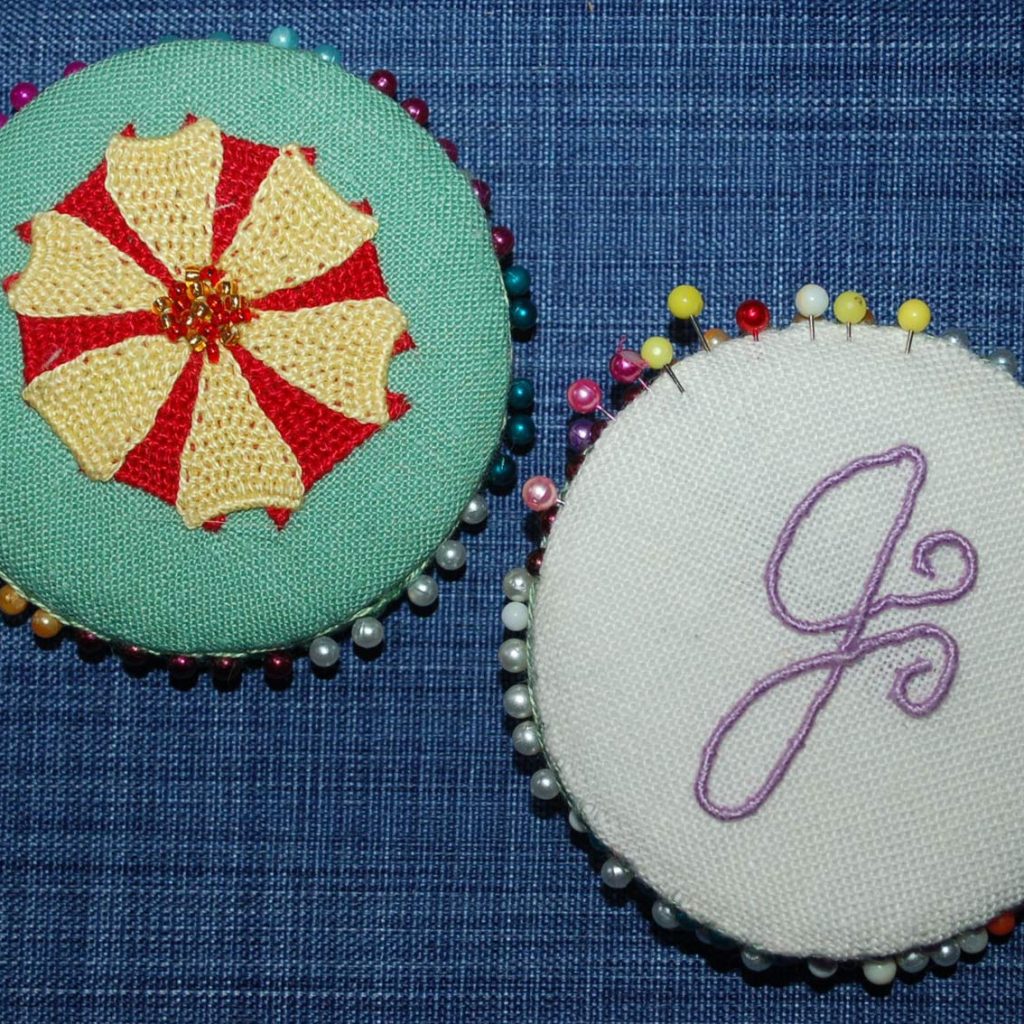 The year before her death, Helen talked about framing the stitched pieces she had finished. I volunteered to help her complete this project. Unfortunately, Helen passed away before we could finish this. Her stash was then passed to her sister, whom I met at the funeral, and we became friends. At the end of 2016, I helped Helen's sister frame the finished pieces. She then gave one to each of their family members. Even though the family, years before, said, "enough," being surprised with a final piece by Helen was emotional and meant a great deal as no more will ever be made. Helen's lesson on stitching is a strong message. You do it because you love it. We put ourselves into what we do, and what we do feeds our souls. Why not fill it with love for those around us and ourselves?
In both Susan's and Helen's cases, much of their stash was given to our chapter. We sorted through the patterns for future programs. Raw materials were saved for the same purpose. We hosted a tea party in their honour and a stash share, where guild members could come and take any part of the stash home to enjoy. Any remainder was sent to another guild. As part of the Chickadee Chapter of Needle Arts program, we have hosted several projects in their memory. We made Casalguidi pin keeps with Susan's green fabric. We made flowers on one side and our initials on the other. Susan had white linen that we used to stitch a Schwalm needle case designed by José Hope. We were also able to host an afghan class from Helen's stash. Our 2021 summer challenge was "hosted" by Helen, making a household item from her fabric supply, using a variety of patterns supplied.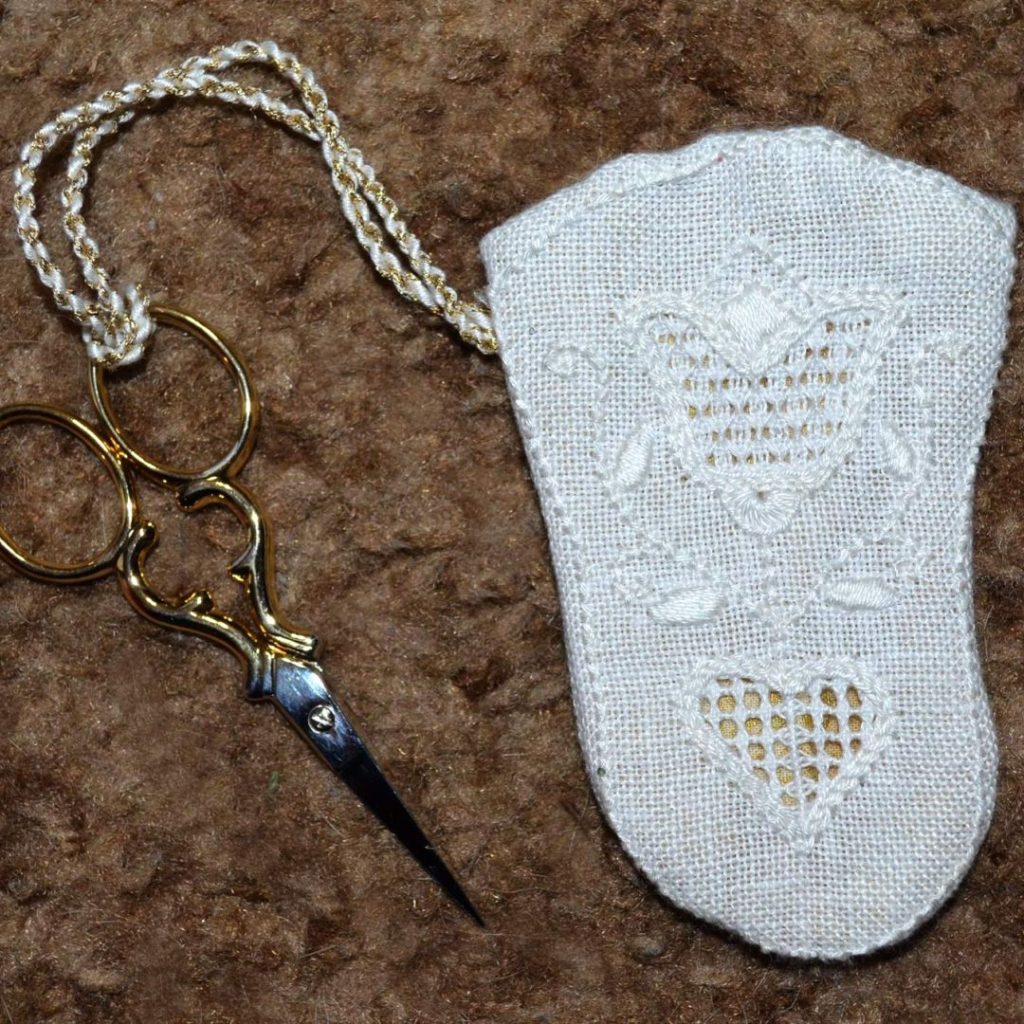 Memories are funny. When we miss our friends and family we are often filled with sadness and grief. If we only focus on these thoughts and feelings, we are left in a void of misery. Other times memories give us comfort and joy. Choose what you'll feel, by choosing where your focus goes. Choose love, fun, and happiness, for yourself. Having stitched pieces with fabric from Susan and Helen is a way to keep them and their memories close. They haven't really left us. The lessons they taught us and the example they lived are with us. I can hear them when I'm starting a new project. Do I love it? Will I learn something? Can I change one thing that will make it "me"? Most importantly, love what I do and those around me. Life is a full experience waiting for us to embrace. How will you embrace it today?