by Nancy Tozer, Lakeshore Creative Stitchery Guild/La Guilde des travaux à l'aiguille du Lakeshore, Virtual Threads, and Ottawa Valley Guild of Stitchery
I joined the Lakeshore Creative Stitchery Guild/La Guilde des travaux à l'aiguille du Lakeshore when I was still working full time. Regular meetings and classes took place weekly on Thursdays; there were no evening stitching groups at the time. So, I decided to enroll in EAC/ACB's Basic Counted Thread correspondence course.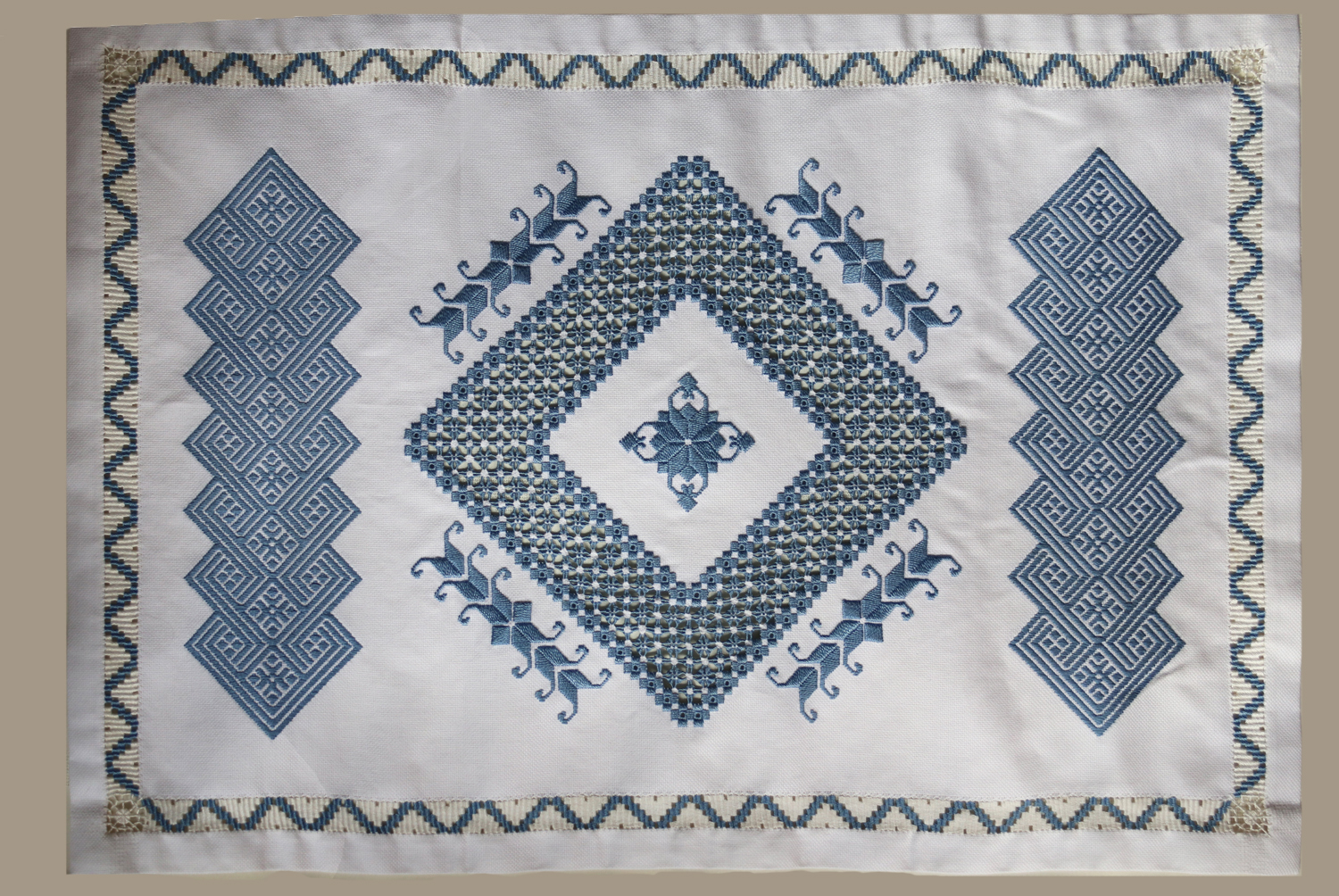 The final project in lesson six was to stitch a sampler on evenweave fabric. The sampler was to include a hemstitched border, mitred corners, and two of the four techniques covered in the course. I chose pattern darning and Hardanger. I used several Ukrainian embroidery books as sources of inspiration, instruction, and reference.
I embroidered the table runner in blue thread on white fabric to complement my home décor. I chose DMC 334 because it was available in floss, pearl cotton #5, and pearl cotton #8. I used the floss for the pattern darning motifs and the pearl cotton for the Hardanger section and needle woven border.
Inspiration for my design started with the pattern darning motif. I found the motif on the sleeve of a Ukrainian blouse and immediately knew that I wanted to stitch this. I embroidered the design using the Ukrainian technique perevolikania and six strands of DMC floss.
The central design illustrates the Hardanger technique. It consists of a medallion surrounded by a band of Greek crosses (a woven filling stitch used in Hardanger embroidery) and satin stitch motifs. Hardanger satin stitching is similar to the Ukrainian lyshtva stitching technique. The Greek cross band was inspired by designs in Janice Love's Hardanger: Fundamentals Made Fancy.
I mitred the corners and hemmed the edges using antique hemstitch, called prutyk in Ukrainian embroidery. The needle weaving pattern was inspired by the border on a Schwalm pillow. It consists of half diamonds in white separated by a step pattern in blue. I stitched this using the Ukrainian technique of latana merezhka.
My table runner turned out to be a very large, ambitious project, taking me four months to complete. Fortunately, my course counsellor, Colleen Darling, was very understanding as my last lesson was quite delayed in being sent to her for evaluation.
As I was designing and stitching this piece, I found it very interesting to note the similarities between Ukrainian stitching techniques with those found in other countries. It seems that the art of embroidery knows no boundaries, with designs and techniques shared amongst needleworkers the world over.
My blue table runner won the "Best of Class" award in the Hardanger, Lace, Pulled and Drawn Thread – Original Design category at Seminar 2000 in Moncton, New Brunswick.