This lovely tribute to Jo Hewitt-Nickel was written by Patty Hawkins, a member of the Winnipeg Embroiderers' Guild.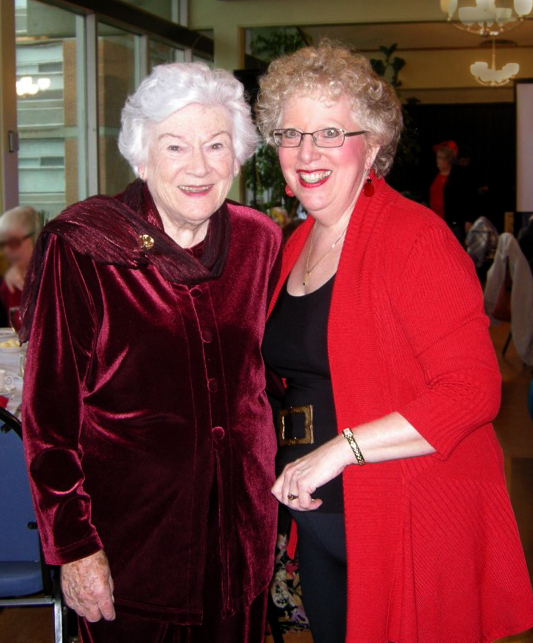 I am very sad to share the news with Winnipeg Embroiderers' Guild members that Jo Hewitt-Nickel passed away on Thursday, December 8, at 95. Others in the guild knew Jo better than me, but no one could have been fonder of her. For our newer members who did not have the privilege of being acquainted with Jo, let me tell you a little bit about her.
Jo was a founding member of both WEG and the Embroiderers' Association of Canada/Association canadienne de broderie. That means she has been involved with our organizations since 1973 and was the last surviving founding member. She was active in our guild and always interested in all things "needlework." She was a retired art teacher (Balmoral Hall) and created beautiful artwork of all kinds, including embroidery.
I met Jo when I joined WEG in 2004. In her mid-seventies at the time, she attended WEG meetings regularly. She was a true "presence" – beautifully turned out, surrounded by members wanting to visit with her, and always happy to catch up with your news. She was especially generous with needlework advice and mentored many of us in our embroidery journeys.
Jo also taught workshops for WEG. I was delighted to create two of her beautiful "angels." The first, a larger angel that could be used as a Christmas tree topper or ornament I named, of course, "Jo." This was my introduction to stitching on trigger cloth. The technique we used can loosely be called crewel work, but Jo gave us no specific directions. Instead, she encouraged us to "run with it" and try new things. I am no designer, but I am delighted with the freedom she inspired in me, and I love how my "Jo" turned out. I appropriately named the second smaller angel, also stitched on trigger cloth, "Margaret" (Jo's official given name). This was my first foray into actual crewel work.  Jo consulted with each of her students, demonstrated a variety of stitches, and taught us about colour and stitch execution. Once I finished both of my angels on my own, Jo painted beautiful faces on them. Even as I type this, "Jo" and "Margaret" grace my living room – beautiful Christmas decorations with such poignant meaning for me – especially now.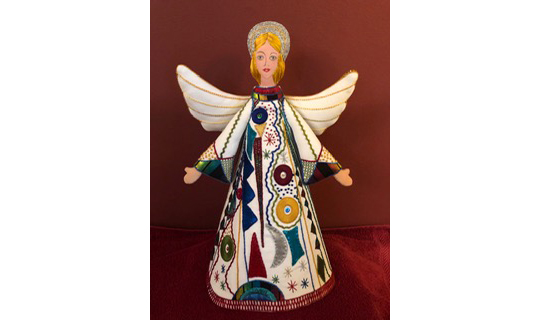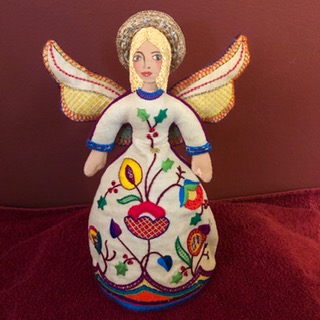 I visited Jo at her apartment at the Canoe Club on a couple of occasions. When she moved over to the assisted living side, she treated Don and me to lunch, and I visited her a number of times in her lovely unit. We talked for hours about everything: her family, beloved grandchildren, movies, needlework, her life, my life – you get the idea. She even hosted my in-laws when they were contemplating a move to the Canoe Club; she showed them around her place and the space in general. Don and I were delighted to host Jo at our house for brunch on one unforgettable occasion.
Jo was recognized as a Founding Member of EAC/ACB at the 40th-Anniversary Seminar in Winnipeg in 2013 and again at the Founders' Tea held by WEG on October 13, 2019. At that event, many of us were thrilled to honour Jo and another surviving founding member Shirley Tyderkie, delighted to meet their families, and take in a display of their beautiful needlework.
A few years ago, Jo moved from independent living to the home of her son Gary and his wife Helga, where she could be better cared for. I only spoke to her briefly once though I often thought of her and reminded myself, "I should call her." I regret now that I didn't. But what a privilege it was to have known this special lady. She spoke with a lilting Irish accent, was always interesting and curious, and literally twinkled with joy and good humour. I hope all of you who knew her will keep her in your hearts, and for those who are meeting her for the first time through these words, may you always know that there are extraordinary people in this world. Jo was one of those rare few.