Use the form below to submit photos of your embroidery to the EAC/ACB public galleries.
Please take a few minutes to prepare your photographs before submission by cropping background areas, if necessary. Your photo will be resized when you upload it. It's better to have a large image so people can see the details when they click on an image to open the viewer. Your photo should be in a .JPG or .PNG format. Please rename your photos, similar to the following example. 
Title-StitchersName-DesignersName.jpg
The "Image caption" field in the form is where you will enter the information displayed under your piece. If you submit a photo to the Celebrate 50 Chapter Challenge Gallery, your display information should include the title, the chapter's name and, if applicable, the designer's name.
Photos for the Travelling Twinchies, Wearable Art Challenge and the Members' Embroidery galleries should include the title, stitcher's name, chapter abbreviation(s), designer's name and chapter abbreviation(s), as shown in the following example.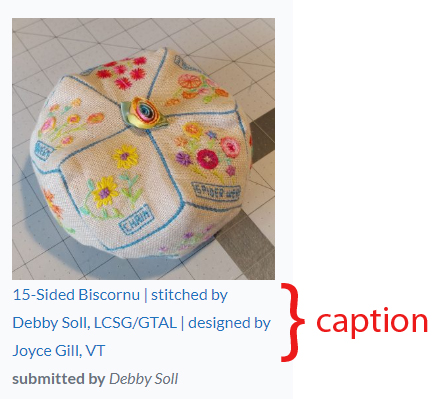 Your submission will be reviewed, and you will receive a notification when it has been approved for publication.
*By submitting the photo and the information on this form, you grant EAC/ACB permission to use and display the photo on EAC/ACB's website. And you attest that you have the right to do so. You retain ownership and copyright of your photo.