In 2023, we will be celebrating EAC/ACB's 50th anniversary. We are already in the planning stages for unique events and projects to mark this exceptional milestone.
More information will be coming about a chapter group challenge, a display in 2023 and a celebration charm with a challenge!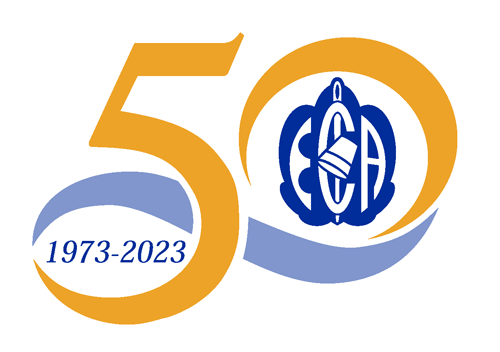 ---
EAC/ACB 50th-Anniversary Challenge!
Design a Wearable Art Accessory
Each member of EAC/ACB has received or will receive a 50th-Anniversary pin. We invite you to participate in this fun and informal challenge by designing your own piece of wearable art incorporating your pin in the technique of your choice. Or choose your favourite fabric and mix and match style, technique, colour. Embellish at will! Anything goes!!
Once your design is complete, send a high-quality photo along with your name and chapter to celebrating50@eac-acb.ca before April 1, 2023. Then showcase your design as you wear your lovely accessory at embroidery events throughout 2023, including our celebratory Seminar 2023 –The Stitch Goes On/Le point continue – in Winnipeg, Manitoba, June 6-11, 2023.
Full details about this challenge appear on the back cover of the latest edition of Embroidery Canada magazine (Spring 2022) (or see below). There you'll also find some inspiring photos of completed accessories designed and stitched by members of EAC/ACB to help you get started. A purse, shawl pin, zipper pull, hair barrette, ornament – what can you come up with?!
If you require further information please contact Beryl Burnett Beryl.burnett@shaw.ca
Défi du 50e anniversaire de l'EAC/ACB
Créez une œuvre d'art portable
Comme vous le savez tous, le 50e anniversaire célébrant The Embroiderers' Association of Canada/ l'Association Canadienne de broderie sera célébré en 2023. Ce sera une année de célébrations! Et pour partir le bal … bienvenue au défi commémoratif du 50e anniversaire de l'EAC/ACB de créer une œuvre d'art portable.
Ce printemps, chaque membre de l'EAC/ACB recevra une épinglette du 50e anniversaire. Nous vous invitons à participer à ce défi amusant et informel en créant votre propre œuvre d'art portable, incorporant votre épinglette, en vous servant de la technique qui vous convient. Ou choisissez votre toile préférée et mélangez les styles, techniques, couleurs. Ajoutez de l'ornementation comme bon vous semble. Tout y passe!
Une fois votre création complétée, envoyez une photo de haute qualité avec votre nom et le nom de votre chapitre à celebrating40@eac-acb.ca avant le 1er avril 2023. Affichez votre création en la portant lors d'événements de broderie tout au long de 2023, y compris le séminaire célébratoire de 2023 – The Stitch Goes On/Le point continue – à Winnipeg au Manitoba du 6 au 11 juin 2023.
Tous les détails au sujet de ce défi sont sur la couverture arrière du plus récent numéro de la revue Embroidery Canada (printemps 2022) (ou voir ci-dessous). Vous y trouverez aussi des photos inspirantes d'accessoires achevés, conçus et brodés par des membres de l'EAC/ACB pour stimuler vos idées. Un petit sac à main, une épingle pour châle, une tirette de fermeture à glissière, une barrette, un ornement – que produira votre imagination?
Si vous désirez plus d'informations, veuillez communiquer avec Beryl Burnett Beryl.burnett@shaw.ca
Nous attendons avec impatience votre œuvre d'art unique!
Joyeux anniversaire EAC/ACB