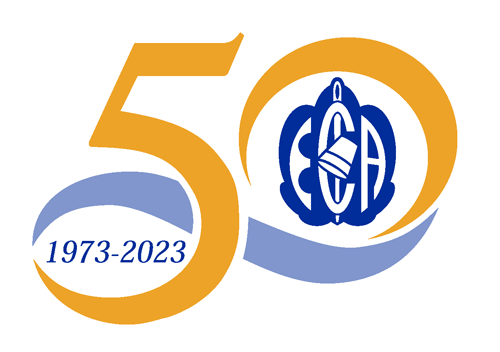 In 2023, we will be celebrating EAC/ACB's 50th anniversary. We are already in the planning stages for unique events and projects to mark this exceptional milestone.
More information will be coming about a chapter group challenge, a round-robin sampler stitching in 2022, a display in 2023 and a celebration charm.
If you would like to join the 50th-anniversary committee, contact our team at celebrating50@eac-acb.ca!
---
Call for Fundraiser Projects
EAC/ACB is requesting submissions of embroidery projects to be sold to members and the public as fundraisers on our website from January 1, 2023, to December 31, 2024.
We are looking for original embroidery designs that are suitable for stitchers at different levels (youth, beginner, intermediate, advanced or all) and that feature various techniques.
Depending on the materials required, the project pattern may be sold on its own as a downloadable PDF or may be made into kits to be sold.
Members whose projects are chosen will receive an honorarium of between $300 and $350. EAC/ACB will have the exclusive right to sell the project for two years, with the designer's copyright notice. After December 31, 2024, all rights will revert to the designer.
All submissions must be accompanied by a completed and signed submission form, at least one good quality photograph and written project instructions. Please consult the Guidelines for Written Project Instructions when preparing your instructions.
Call for Take 50 Sampler SAL Designs
EAC/ACB is looking for members to design a portion of a stitch-along (SAL) sampler project to celebrate our 50th anniversary in 2023. Are you a new or beginner designer who has designed only for yourself or for your chapter members? We are especially looking for you. We would also like the expertise of our experienced designers. We want to promote all of our member designers, so this is your chance to show the world what you can do!
This stitch-along will be available to everyone – members and the general public. We are planning to offer four different, small designs each month for the whole anniversary year – January 2023 to December 2023 – with two bonus designs to make up a total of 50 designs for our 50th year! We will post the four designs on the EAC/ACB website and Facebook page each month. The idea is to have designs in various techniques so that stitchers can choose which and how many to add to their sampler.
We are looking for original band designs and spot motifs for surface stitchery, canvaswork and various counted techniques (blackwork, cross stitch, Hardanger, pulled thread, etc.). Create your design to be suitable for stitching on 28-count fabric or 18-count canvas. People choosing to work their choices as surface designs will be instructed to back their fabric with muslin.
Design dimensions:
band design maximum width: 5 inches (13 cm)
band design maximum height: 2 inches (5 cm)
spot motif maximum: 3 inches (7.5 cm) square
Spot motifs may be square, hexagonal or free form and may include a small border within the three-inch boundary.
Members can submit more than one design in more than one technique. How about submitting one design for each month of the year? Your designs can be in different techniques. You can suggest colour choices or leave it up to the individual stitcher.
There is no monetary award for the designs selected for the Take 50 Sampler. We will be promoting your name with your design on our website and Facebook page. After the anniversary year, the designs will be moved to My EAC/Mon ACB and available only to members. You will retain your design's copyright and can use it as you wish even during the anniversary year. We would appreciate it if you let everyone know that your design is part of the EAC/ACB's Take 50 Sampler Stitch-Along.
The closing date for the submission of designs is January 31, 2022. The committee will decide on the final 48 designs by March 31, 2022. You will be notified if your design is selected and asked to submit the instructions/pattern no later than September 30, 2022.
Submission Form: Take 50 Sampler Design (fillable PDF)

Download and save the submission form to your device. Complete the form, save it, print and sign it. Then take a photo or scan both pages for submission.

Submit your design/pattern, a photo of the stitched design and your completed and signed submission form by email to Celebrating50@eac-acb.ca.
Submissions are due January 31, 2022.