1st Seminar Group Project Award for Simcoe County Embroidery Guild
Simcoe County Embroidery Guild's entry Avis Plumarius took flight at Seminar 2023. At 50 x 50 x 70 centimetres, Avis was engineered to come apart to fit into a travelling case and look good doing it! She is a wonderfully designed and well-thought-out piece of art with sublime imaginative embroidery. What a marvel!
Editor's note: I think you should read the backstory first, but if you can't wait, here's a quick link to the video.
Source/Theme
Our chapter decided to team up to create a whimsical work of art – a guild mascot – that would showcase our artistic abilities and boost our community spirit. Attempting a bird seemed logical as the work could be subdivided into manageable sections, mainly feathers, that could be stitched individually. Avis (aka "Birdie") generated great enthusiasm as 22 members joined their creative forces to coax her to life. "Birds of a Feather Flock Together" became a fitting tagline for our project.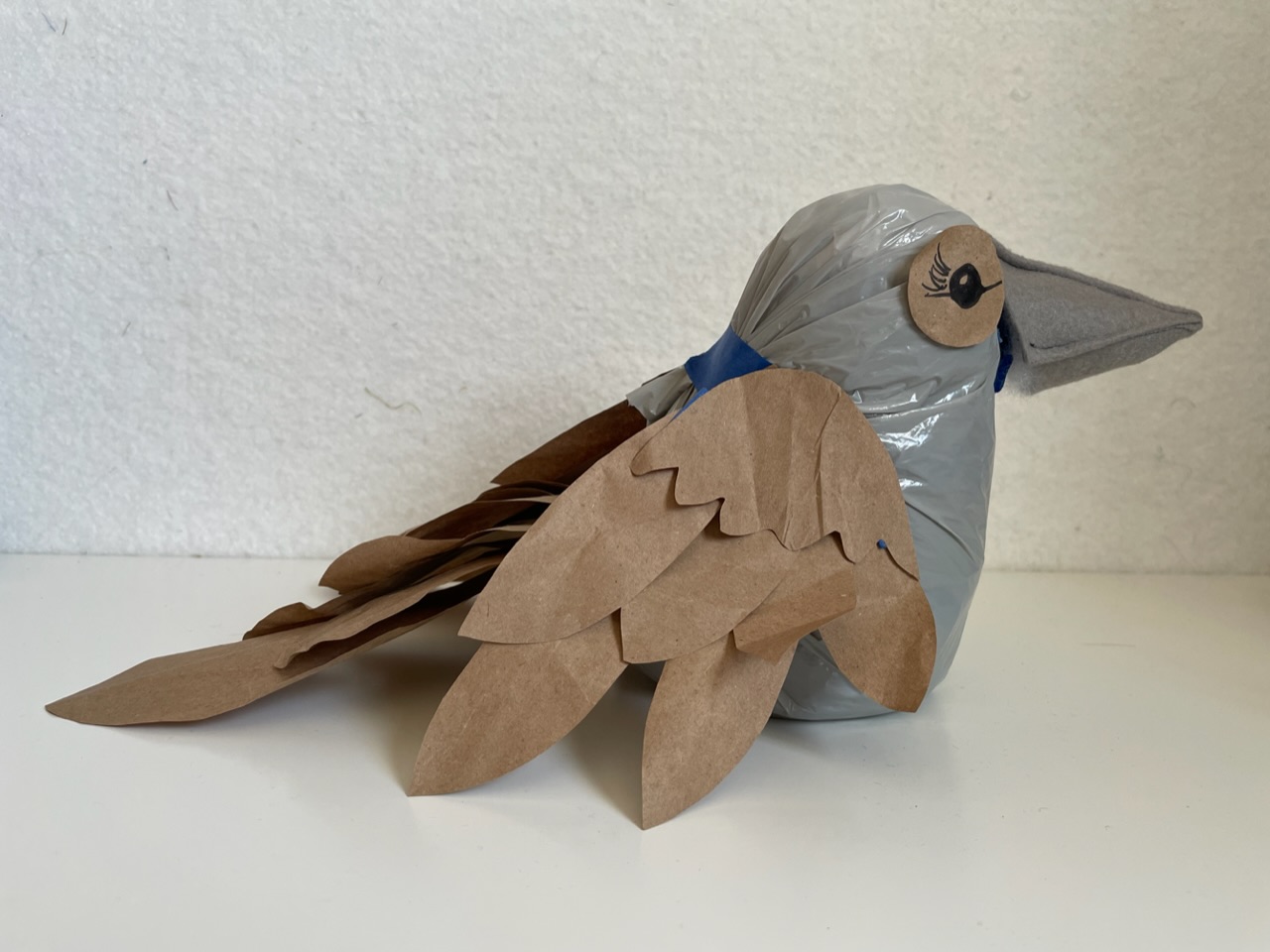 The idea of a bird mascot was first pitched to the guild as a plastic grocery bag, stuffed and shaped to resemble a bird body, with a felt beak and brown paper feathers taped on. Members were asked to stretch their imaginations and give input. Suggestions were that it be female, colourful, vibrant and predominantly blue. We wanted Avis to be unique, not a replica of any known species. Although we did get some inspiration for our colour choices, beak, eyes, and trailing feathers from a South American bird, the Turquoise-browed Motmot, our goal was to create a "bird like no other" that would ultimately outshine all other species.
Theme Explanation
We wanted to challenge ourselves to create something different. A guild mascot would be fun to display at meetings and events. It could travel with us to the seminar and be photographed on excursions. Accessories could be added for special occasions or just for fun.
Criteria Restrictions
Participants were given a feather kit containing threads, beads, sequins, and turquoise or navy fabric with a feather outline. Any technique was allowed as long as only the provided materials were used. They were asked to avoid any technique that required cutting, withdrawing threads, or making holes in the fabric. A few wing feather kits included suggested stitch diagrams for those not confident with designing their own, but many of the feathers were the creation of the individual stitchers. All feathers were completed within three months. Assembling Birdie took another four months.
Methods Techniques Materials
Avis underwent several design modifications from the initial concept.

Her body is sewn with white quilter cotton and firmly stuffed with polyester fibrefill. The outer layer of fabric was stitched to her body form. Her back end has an insert allowing the tail feather fans to snap in place. Having them removable will enable her to fit in a suitcase.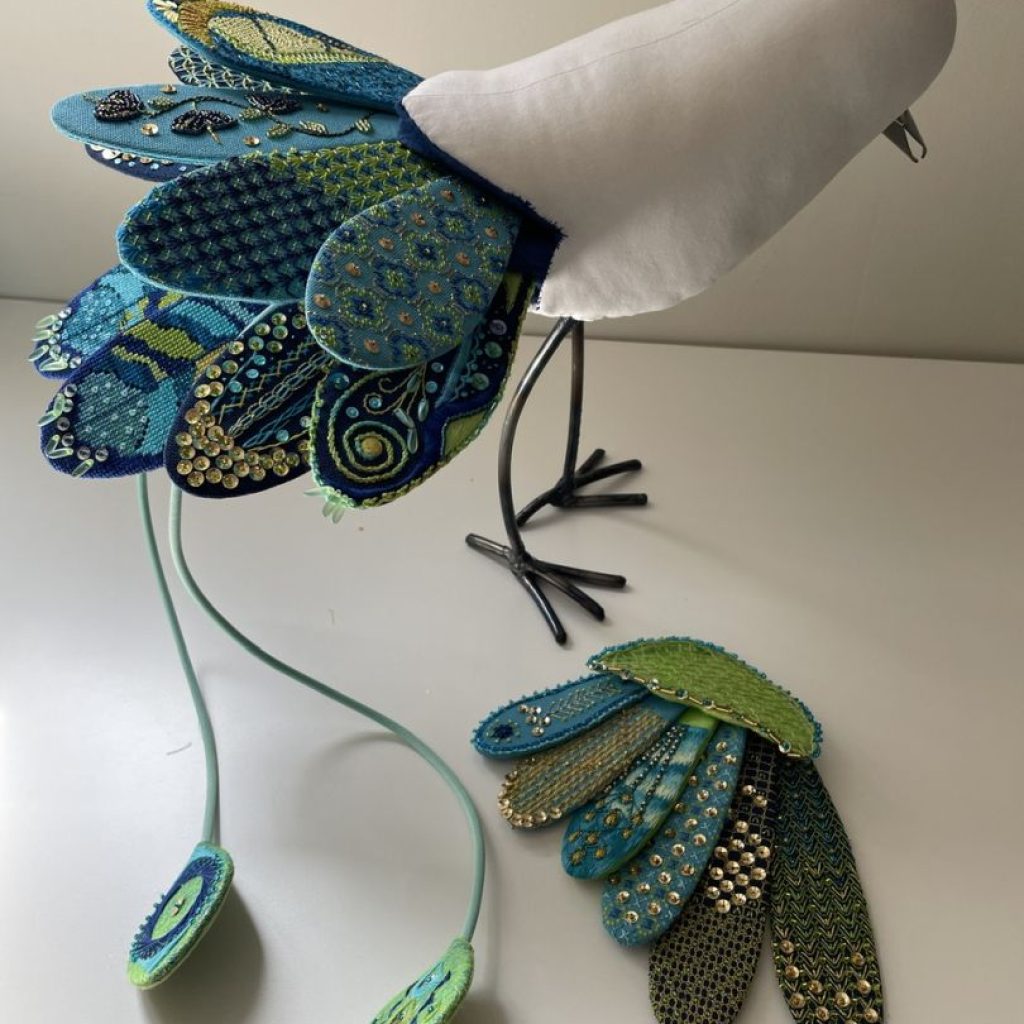 Her feathers were stitched on either navy 28-count Lugana or antique white 28-count Lugana that had been painted with two coats of Fabric Creations soft fabric ink in aqua by Plaid Enterprises.
Feathers were stitched using various surface techniques, including beading and needlelace, and counted techniques, such as cross stitch, canvaswork, blackwork, kaleidoscope stitch, etc. The topsides of the feathers were formed over the Pellon Peltex 70 Ultra Firm Stabilizer. The feather undersides were machine stitched on quilter's cotton and backed with Pellon 808 Craft Fuse, an iron-on stabilizer. The backs were appliquéd to the fronts using the ladder stitch.
Our girl loves bling!!! Threads used were cotton floss by ThreadWorx, DMC pearl cotton #8, Treasure Braid, and Kreinik Metallics #8 Fine Braids. The beads used were Mill Hill Magnifica glass beads and Miyuki Delica Beads, size 11/0. Sequins came from our stashes. Green Angelina Fibres were heat-fused and applied to the shoulders and trailing feathers to add shimmer.
The shafts for the two trailing feathers were cut from a broken cell phone charger. They are attached to the body using a brass picture hanging hook and a loop made from a paper clip.
Unlike two-dimensional embroidery, which can be finished by framing, our three-dimensional embroidery required us to think outside the box for its structural framework. One of our members has a sister-in-law, a talented metal sculptor/welder. She kindly offered to fashion for us a beak and some sturdy legs according to our specifications. We wanted her legs to be more representative rather than anatomically correct. No matter what angle Avis is viewed from, her wonky legs show off her sassy attitude as she "struts her stuff."