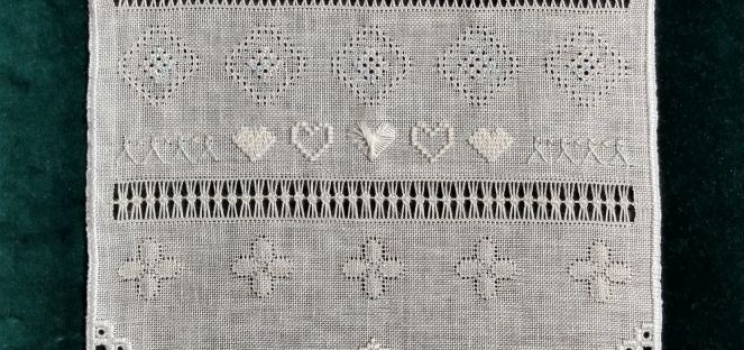 Whitework Band Sampler – DLE
Estimated Date Stitched:
2004
Estimated Age of Stitcher:
66
Name of Stitcher:
Dale Laura Edwards
Type of Sampler:
band, spot, darning
Size of Sampler:
Width: 23cm
Height: 46.5cm
Description:

Band Sampler with motifs and borders worked on Permin Royal Crown Linen.
The colour is called 'Spun Silver'.
Worked in a variety of threads and mounted on a stiff board backing covered with a very dark green velveteen fabric.
Condition: Excellent
Description of condition:

in pristine condition.
Approximate thread count:
28
Embroidery thread type:
cotton, silk, other
Description of alphabets:

Number of sets of numerals:
Borders: other – Hardanger buttonhole//eyelet//wavew scroll//withdrawn
Motifs: other**Hearts//butterflies (one with beads)//flower shapes
Type of stitches: other – klosters//Dove's eyes//darning//Holbein ( Double
Name or initials on sampler: DE 04
Owner / Donor Story:

This sampler was created as a four-day workshop which was part of the requirements for Teachers' Certificatio in EAC/ACB. It was eventually eddited to become a group correspondence course which was taken by several groups of EAC/ACB members.
Photographs
No. of photographs: Number of photographs: 11
Description of photographs:

Reference numbers: (Museum, archive or other references associated with sampler)