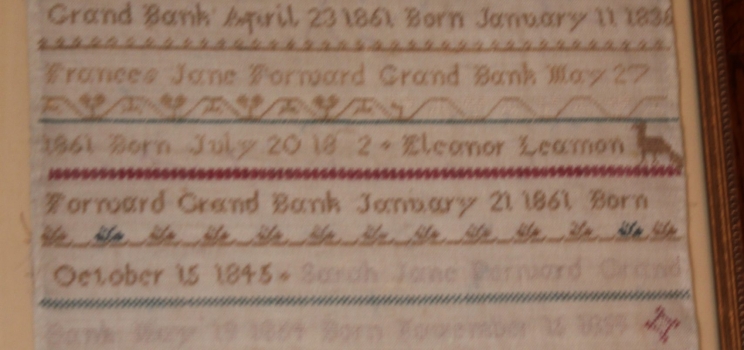 Frances Jane Forward
Estimated Date Stitched:
1865
Estimated Age of Stitcher:
23
Name of Stitcher:
Frances Jane Forward
Type of Sampler:
alphabet, band, other
Size of Sampler:
Width: 13.6in
Height: 17.8in
Condition: Excellent
Description of condition:

Approximate thread count:
34
Embroidery thread type:
cotton
Number of letters: Number of Alphabets: 2
Case: Upper Case, Lower Case
Description of alphabets:

Number of sets of numerals:
Motifs: plants, animals, religiuos, family record
Name or initials on sampler: see below
Verse or Inscription:

ABCDEFGHIJKLMNOPQRSTUVWX
YZ  abcdefghijklmnopqrstuvwxyz
Robert Forward Grand Bank April 19 1861 born
November 17 1829 John Charles Forward
Grand Bank April 23 1861 Born January 11 1836
Frances Jane Forward Grand Bank May 27
1861 Born July 20 18_2 Eleanor Leamon
Forward Grand Bank January 21 1861 Born
October 15 1845 Sarah Jane Forward Grand
Bank May 19 1864 Born November 16 1859
See gently patience
smile on pain  Seeling
ering hope revive again
Hope wipes the tear from
sorrows eye And faith
points upwards to the sky
Owner / Donor Story:

The sampler may have been stitched by Frances Jane Forward. A blank is left in the year of her birth "18 2" which implies that she may be the one who worked the piece for she was born July 30 1842. The first date after each name is the date of the stitching and the second date after each name is the date of birth. The sampler was then started in 1860 or 61 and completed in 1864 -r 1865. Frances Jane would have been between 19 and 23 years old when she completed her sampler.
The first four names on the sampler are the children of John Forward (1796-1869) and Sarah (?Leamon)(1804-1870). Another son, Benjamin was born May 20 1827 and as he is not listed may have died young.
Sarah Jane Forward was not a sibling of the others. She was the daughter of Frances Jane's brother, Robert Forward, and Mary Forsey. There is fifteen years difference between the birthdates of the last two names on the sampler.
Robert Forward married Mary Forsey (born Dec 26 1835, died Jan 15 1908). He was lost at sea Dec 13 1882 and his wife married again, to John Hiscock'
No information on John Charles….
Frances Jane Forward married Jomathon Tibbo (born June 27 1842, died Feb 9 1918) on Nov 13 1865. She died Aug 24 1926.
Eleanor Leamon married Samuel Tibbo (born Sept 21 1842, died July 28 1914) on Nov 30 1870. She died Jan 22, 1894.
Sarah Jane married Jacob Forsey (born May 30 1856, lost at sea Dec 13 1882). She died Nov 6 1937.
Other Information:

Frances Jane, born July 30 1842 was the daughter of John and Sarah Forward. The first four names and birthdates are for herself and her siblings. the last name, Sarah Jane Forward was Frances Jane's niece, the daughter of her brother Robert. This is the Sarah Jane Forward who completed the sampler "Sweet Home of my Childhood."
Photographs
No. of photographs: Number of photographs: 4
Description of photographs:

Reference numbers: (Museum, archive or other references associated with sampler)