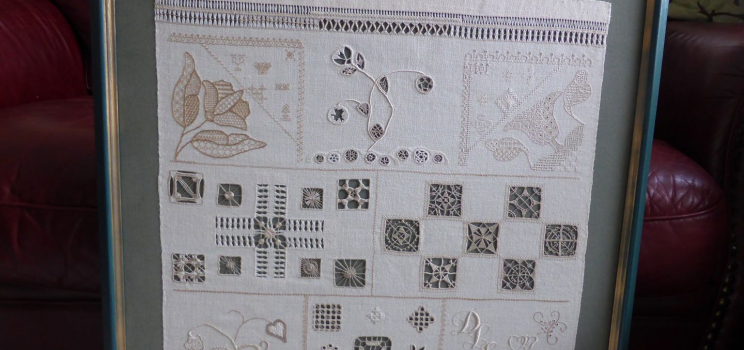 The Silken Sampler
Estimated Date Stitched:
1982-3
Estimated Age of Stitcher:
45
School and/or Teacher:
The World in Stitches, Kay Montclair
Name of Stitcher:
Dale Laura Edwards
Type of Sampler:
other*
*Techniques
Size of Sampler:
Width: 53.4cm
Height: 53.7cm
Description:

A fairly large, square sampler, stitched on Glenshee linen. Each student was to design her/his own, using the specified stitches, according to certain rules or guidelines. Mine was done in squares and rectangles, in order to be framed.
We had fabric and thread colours to choose from (I believe in monochromatic theme) I chose natural (ecru) for mine. Threads were mostly different types and brands of silks and fabric was 28/1″ Glenshee linen. They were all very beautiful to work with
Condition: Excellent
Description of condition:

It is in very excellent condition except that the fabric that it is mounted on top of is faded slightly.
Approximate thread count:
28
Embroidery thread type:
silk, other
Description of alphabets:

Number of sets of numerals:
Name or initials on sampler: D L E
Owner / Donor Story:

I had been working on a program called Hands On! by Kay Montclair of The World in Stitches when she announced a correspondence course called The Silken Sampler. She would send stitches in several different techniques. We were to use a certain percentage of the stitches in our own design. At the end of the course, we could send the piece to her for judging. There were 1st, 2nd, 3rd and three runners-up. There were nine stitch categories sent over an 18 month period. For many of these techniques, I had maybe done one small piece in Hands On! so was quite a novice but was very pleased to receive a runner-up ribbon They were judged on quality of work not design fortunately, because there were some lovely designs. This was a great challenge for me and a wonderful learning experience
Photographs
No. of photographs: Number of photographs: 9
Description of photographs:

Reference numbers: (Museum, archive or other references associated with sampler)