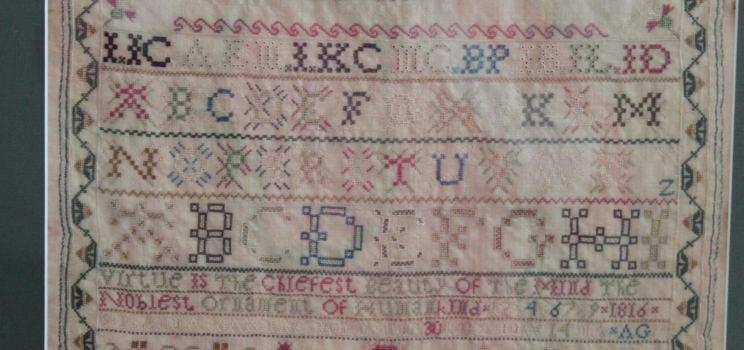 Susanna Baillie Sampler
Estimated Age of Stitcher:

Size of Sampler:
Width: 34cm
Height: 41cm
Condition: Good
Description of condition:

Approximate thread count:

Description of alphabets:

Number of sets of numerals:
Name or initials on sampler:
Verse or Inscription:

top verse: Jesus permit thy gracious name to stand as the first effort of an infants hand and while her fingers oer this canvas move engage her tender heart to seek thy love.
below alphabet: virtue is the chiefest beauty of the mind the noblest ornament of human kind. 1 2 3 4 5 6 7 8 9     1816
Owner / Donor Story:

Susanna Baillie born June 30 1802 now 14 MA . AG
Other Information:

found in a box of rags at a church rummage sale in the late 60's in Montreal.
Photographs
No. of photographs: Number of photographs: 1
Description of photographs:

Reference numbers: (Museum, archive or other references associated with sampler)