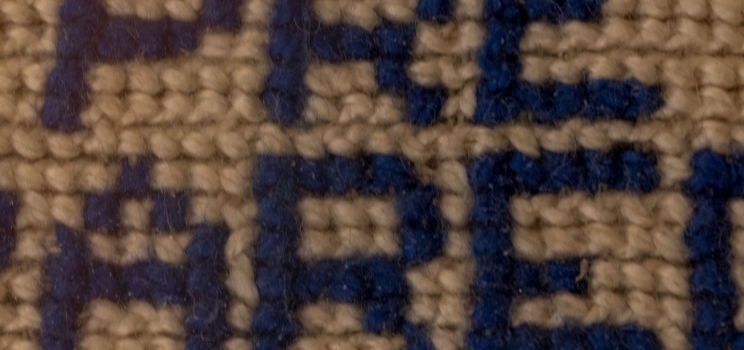 Grandad's War Sampler
Estimated Date Stitched:
1950s
Estimated Age of Stitcher:
in his 60's
School and/or Teacher:
Hamilton Ontario
Size of Sampler:
Width: 18in
Height: 18in
Description:

wood, it has an acid free mat
Condition: Good
Description of condition:

Fabric Type:
other*
*interlock canvas
Approximate thread count:
12
Embroidery thread type:
cotton, wool, other
Description of alphabets:

Number of sets of numerals:
Description of numerals:
There are numbers (but) giving the dates of the wars
Motifs: other**Triangles. The borders are not consistant in colour. Some ( ... ) changes occur with purchase of more thread
Name or initials on sampler: none
Verse or Inscription:

We shall not fail – Churchill
With gods help we shall prevail – George VI
England expects every man to do his duty – Lord Nelson
(The first letter of each word is stitched in red.)
Owner / Donor Story:

This sampler was stitched by the owner's grandfather:
Henry James Nutley, 1897 – 19990
Henry was born in Tunbridge Wells, U.K., and emigrated to Canada in 1911 with his parents and eight brothers and sisters.
The family settled in the Welland area of Ontario until moving to Hamilton, Ontario.
Henry joined the army (H.I.L.) as a young man.  He was injured while fighting in the first World War.
He learned to do needlework when he was in the rehabilitation hospital.  It is thought that he stitched this sampler for a particular event/display.
Henry was a member of the War Pensioners of Canada, for whom he designed their logo – which is still in use.
A photograph of Henry's tombstone may be seen at www.billiongraves.com
Photographs
No. of photographs: Number of photographs: 3
Description of photographs:

Reference numbers: (Museum, archive or other references associated with sampler)