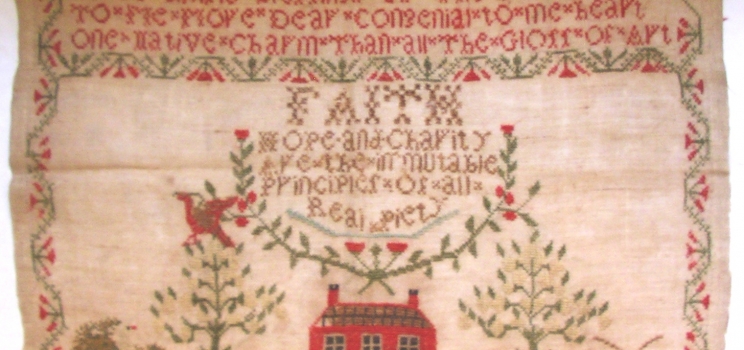 SAM-05008
Estimated Date Stitched:
1840
Estimated Age of Stitcher:
6 years
Name of Stitcher:
Letitia Ramage
Type of Sampler:
alphabet
Size of Sampler:
Width: 43cm
Height: 43cm
Condition: Good
Description of condition:

Approximate thread count:

Embroidery thread type:
cotton, wool
Description of alphabets:

Number of sets of numerals: Number of sets of numerals: 0
Borders: other – W floral. Edges hemmed, cross borders
Motifs: plants, animals, buildings
Name or initials on sampler: Letitia Ramage
Verse or Inscription:

Let the rich deride; the proud distain/ these simple blessings of the lowly train/to me more dear,congenial to me heart/one native,charm than all the gloss of art. Faith, hope and charity are the immutable principles of all real piety
Owner / Donor Story:

Museum records show the sampler was stitched by the great Aunt by marriage of the donor.George F. Macdonald. The sampler was given to the Macdonalds on a trip to Scotland. The Macdonalds were a prominent business family in Windsor.
Donor Information: Estate of Mr & Mrs George F. Macdonald Nov. 5, 1994
Photographs
No. of photographs: Number of photographs: 2
Description of photographs:

Reference numbers: (Museum, archive or other references associated with sampler)
Accession Number: 1959.129
Catalogue Number: FBH;fort;161