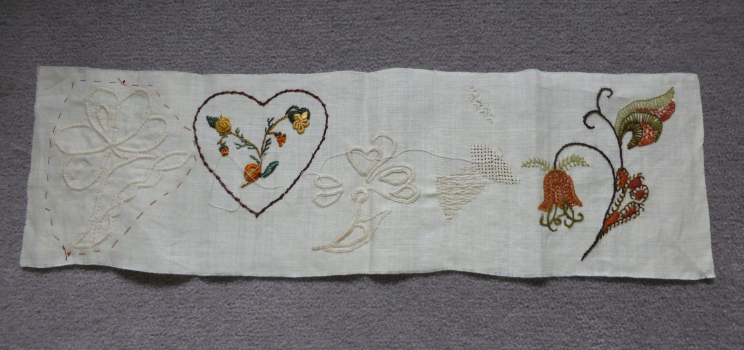 Design Workshop Sampler
Estimated Date Stitched:
1980's
Estimated Age of Stitcher:
40's
Name of Stitcher:
Dale Laura Edwards
Type of Sampler:
other*
*TECHNIQUES
Size of Sampler:
Width: 49.4cm
Height: 14.5cm
Description:

This is a strip of samples encompassing an Italian corded quilting flower, a bunch of flowers in Brazilian embroidery, a flower and leaf in buttonholed cutwork, a flower and leaf in pulled work, and a spray of flowers and leaves in crewel work. The corded quilting consists of double rows of running stitch, through the back of which a heavy cord or bunch of fine threads is threaded, creating a raised design on the front of the work. There is no colour except that of the fabric, which is off-white. Next, to the right, the Brazilian flowers are created with bullion knots of different styles of bullion rose and bud, looped bullion, buttonholes, satin, outline, French knot, and feather stitch in a heart of coral knots. The colours are orange, yellow, green and brown. Again, to the right, two flowers, one buttonholed cutwork in white threads and one pulled in white. The final design is in greens, orange and brown, satin, chain and outline included in crewel style.
Condition: Good
Description of condition:

It is in an unfinished condition with raw edges but no stains.  One Thread is hanging, unstitched.
Fabric Type:
other*
*linen ground
Approximate thread count:
80
Embroidery thread type:
cotton, wool, other
Description of alphabets:

Number of sets of numerals:
Type of stitches: other – basting, double running, coral knot, bullion knot, outline, buttonhole, feather, pulled stitches
Name or initials on sampler:
Owner / Donor Story:

In 1970-71, I was one of a class of students who took courses in crewel embroidery (Art Needlework) with a teacher, Fran Oakley, at Cedarbrook Community Centre in Scarborough, Ontario; I loved it and kept working at it even after the classes were finished.
In the summer of 1975, Fran contacted me to see if I was interested in helping to form a chapter of the Embroiderers' Association of Canada (EAC). Of course, I was, and we began meeting for informal lessons and planning sessions. By the end of the year, we had the requisite 20 members to receive certification and started as a guild on the first Monday of February 1976. That day has been maintained as our official anniversary.
As a whole group, we had little formal teaching, but each knew some field of the needlearts – canvaswork, quilting and other types. I had several years of sewing experience, both machine and hand, along with the crewel I had worked on in the intervening time. We began sharing our knowledge by way of small workshops and classes. In a few years, I had taught several workshops and had been experimenting with creating my own designs, mainly after Fran's style, but also bringing in my ideas. Wanting to encourage others to do so, I set up this small set of classes to teach a few different techniques. It went pretty well, and some of the group started doing the same.  This sampler is a product of that workshop, although unfinished.
Photographs
No. of photographs: Number of photographs: 3
Description of photographs:

Reference numbers: (Museum, archive or other references associated with sampler)