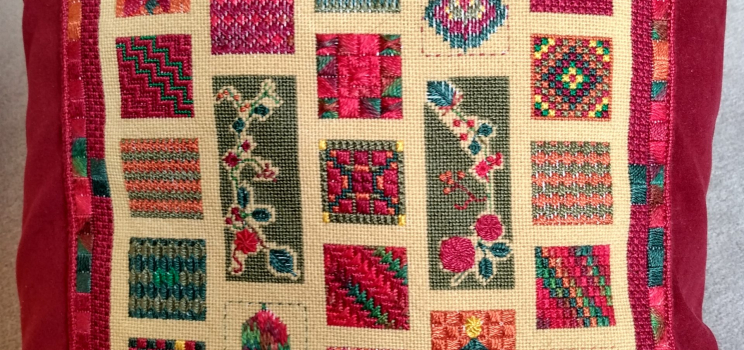 Introduction to Canvaswork
Estimated Date Stitched:
2003
Estimated Age of Stitcher:
65
School and/or Teacher:
Scarborough Needleartsguild/ Christine Okawara
Name of Stitcher:
Dale Laura Edwards
Type of Sampler:
other*
*Technique
Size of Sampler:
Width: 42cm
Height: 42cm
Description:

This is a square sampler stitched on linen canvas and mounted on velveteen fabric with same fabric piping to make a cushion.  It includes many canvaswork stitches and is stitched in many colours.  The cushion fabric is burgundy colour.
Condition: Excellent
Description of condition:

The cushion is as new with no stains, tears or damages.
Fabric Type:
other*
*Zweigart linen canvas mounted on velveteen
Approximate thread count:
18
Embroidery thread type:
cotton, silk, wool
Description of alphabets:

Number of sets of numerals:
Type of stitches: other – Split; Byzantine; Parisian; Leaf; Scotch; Hungarian Ground; Novelty stitches; Variations of square stitch; Brick stitch; Rhodes with Scotch and Cushion; Mosaic, Cashmere, Cushion; Milanese; Hungarian; Bargello; Novelty; Tree; Mosaic; Mosaic variations; Oldd Florentine; Cashmere. Initials and date
Name or initials on sampler: D L E 2003
Owner / Donor Story:

This was a class given at Scarborough Needlearts Guild by Christine Okawara to learn how to graph for canvaswork and to design for oneself.  It taught some of the theory of colour, the direction of stitches and working direction.
Photographs
No. of photographs: Number of photographs: 9
Description of photographs:

Reference numbers: (Museum, archive or other references associated with sampler)