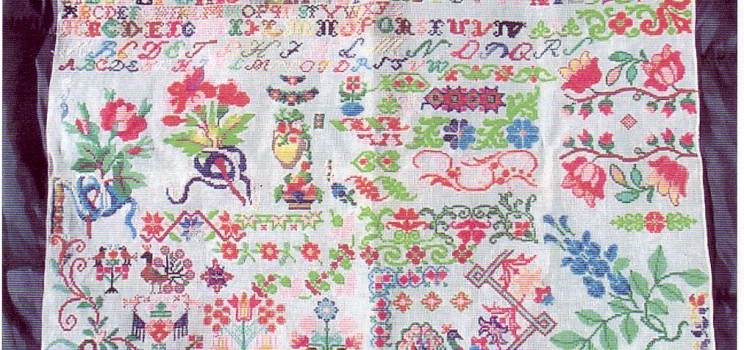 SAM-04003
Estimated Age of Stitcher:
Oct, 27, 1873
School and/or Teacher:
Mennonite Colony (Sommerfeld?) Manitoba
Type of Sampler:
alphabet
Size of Sampler:
Width: 26cm
Height: 17cm
Condition:
Description of condition:

Approximate thread count:

Embroidery thread type:
cotton, wool
Number of letters: Number of Alphabets: 5
Description of alphabets:

Number of sets of numerals:
Name or initials on sampler:
Owner / Donor Story:

The sampler was stitched by Anna Sawatsky. Susan (Sawatsky) Siebel/Heibert gave sampler to Anne Glazov as they share the same name.
Married at the age of 20 to Henrich Sawatsky, Anna Sawatsky lost one of her hands in a farming accident when she was in her late teens (1888), so the sampler must have been made before this accident. She was the great grandmother to Anne Glazov.
Photographs
Description of photographs:

Reference numbers: (Museum, archive or other references associated with sampler)