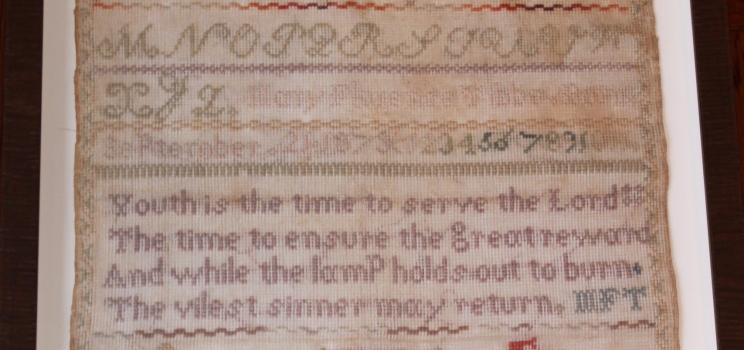 Mary Florence Tibbo
Estimated Date Stitched:
Dec. 15, 1884
Estimated Age of Stitcher:
9
Name of Stitcher:
Mary Florence Tibbo
Type of Sampler:
alphabet, band
Condition: Poor
Description of condition:

faded and stained, fraying on the edge
Approximate thread count:

Embroidery thread type:
wool
Number of letters: Number of Alphabets: 3
Case: Upper Case, Lower Case
Description of alphabets:

Number of sets of numerals: Number of sets of numerals: 1
Description of numerals:
1-10
Motifs: plants, animals, other
Name or initials on sampler: Mary Florence Tibbo
Verse or Inscription:

Mary Florence Tibbo
Born September 21, 1873
Youth is the time to serve the Lord
Ther time to ensure the great reward
And while the lamp holds out to burn
The vilest sinner may return. MFT
Grand Bank December 15, 1884
Other Information:

Mary Florence Tibbo (1873-1962) was the daughter of Samuel Tibbo (1842-1914) and Eleanor Leamon Forward (1845-1894). She married Charles Ambrose Forward ( June 4, 1875-1972)the son of Ambrose and Olivia Forward. They lived on George Street, in Grand Bank. In 1910, Charles Forward invited his cousin and future brother-in-law, Felix Tibbo, who was working as a carpenter in Boston, to return home and go into partnership with him. Together they opened the firm Forward and  Tibbo.
Mary Florence Tibbo's siblings were:
Sarah Forward Tibbo (1871-1944) married William Forsey ( 1866-1936)
Winnifred Tibbo (1876-1972) married Frederick Edward Penney (1903-1993) and moved to Carbonear
Felix G. Tibbo (1879-1958) married Eleanor V.C. Lake (1880-1961)
Charles Tibbo (1884-1918)
Henrietta Tibbo (1887-1970) married Austin Maddock ( 1888-1959) and moved to Carbonear
Photographs
No. of photographs: Number of photographs: 5
Description of photographs:

Reference numbers: (Museum, archive or other references associated with sampler)