submitted by Jean Hughes, Town Clock Stitchers, Halifax, Nova Scotia
There was a time when embroidery on clothing was all done by hand. Today we frame our work, create wall hangings, cushions, needle books and many other "things." Wouldn't it be nice to create something special that we can wear?
Town Clock Stitchers is a group of talented stitchers with different skills and interests. We challenged each member to create something with only one requirement – it must be wearable. It could be a piece of clothing, a bag, a hat, shoes, etc. Members brought clothing ideas to our meeting and we shared ideas and the process of transferring the design. An excellent source of ideas was our collection of Inspirations magazines.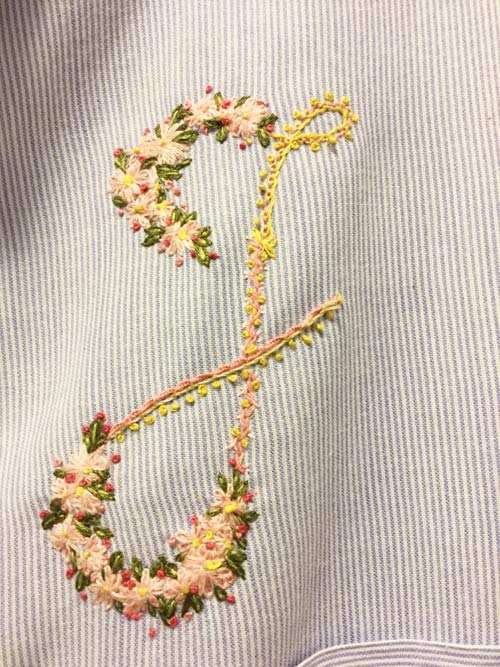 Janet: My project is a monogrammed nightshirt. It is a design from Mary Corbet's book, Stitch Sampler Alphabet. It uses DMC cotton floss and a variety of surface stitches. A very special nightshirt!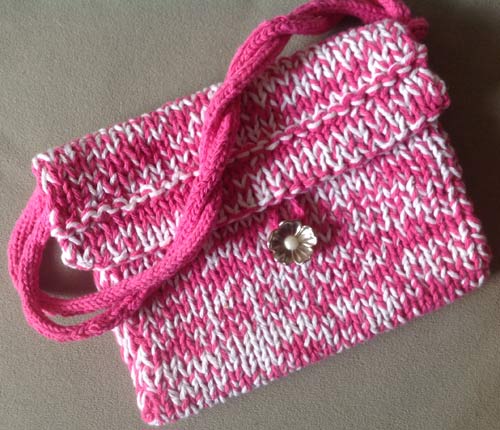 Beverly: The little pink handbag is totally hand made, except for the pretty flower button. The body is done in the stocking stitch, and the handle is a double I cord made. The lining inside is hand-stitched. A little girl could wear her purse over her shoulder, or her Mum could wear it on her arm.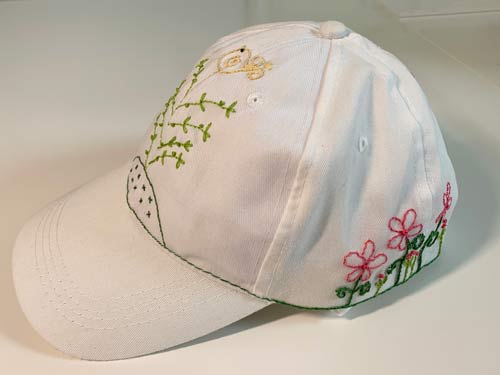 Marie: The embroidery patterns on my hat are from the book Patchwork Loves Embroidery by Gail Pan. The embroidery floss is by Jenny Hart at Sublime Stitching.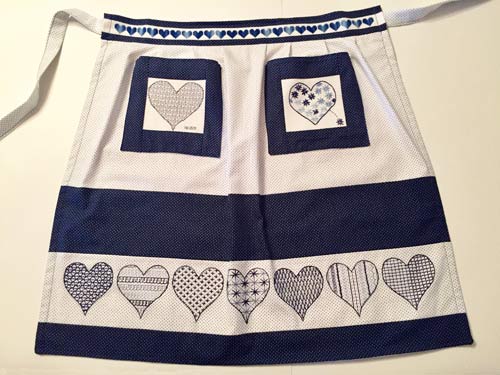 Annemarie: I got the idea to do an apron from one I inherited that has machine embroidery on the band, pockets, and along the bottom. In searching the Internet for pattern and design ideas, I came across a cute white apron with red applique. I also found the free blackwork heart pattern in an article by Karen Creftor. Karen added a contemporary twist by working with red instead of black.
I thought, why not do white with blue, like the Delft blue pottery my family brought with us when we immigrated to Canada in 1957? And with that came the thought to cover my apron with blue hearts.
In keeping with the notion of creating something from supplies on hand, I used various blue threads saved from previous projects. Once I completed the blackwork heart, I moved on, designing as I went along. For each heart, I used a different stitch. The band is covered with hearts in a single cross stitch, also known as a sampler stitch, using variegated threads. The second pocket heart is covered with a detached stitch, more commonly known as the lazy daisy stitch, in three blue tones. The same blue tones were used for the hearts along the bottom. From left to right, they are covered with: triangle filling stitch, double blanket stitch, upright cross stitch, star stitch, woven cloud filling stitch, chain and line stitches, and a square laid filling or trellis stitch. Overall, designing my own pattern was a very satisfying experience.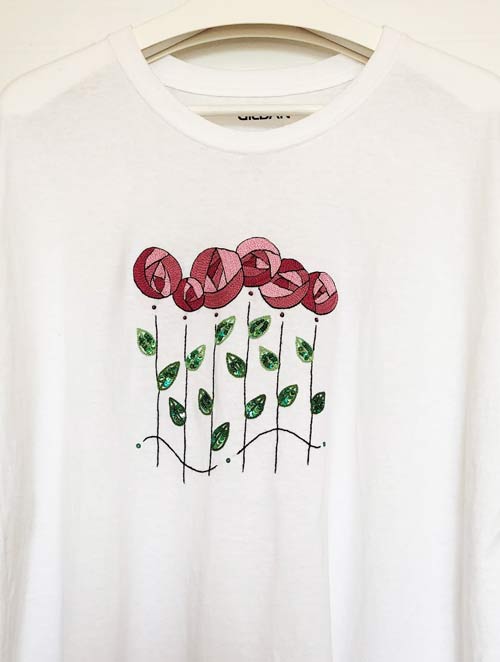 Melissa: I have always liked Macintosh roses, and it's been in the back of my mind to stitch something for a while. The wearable art project gave me the incentive to finally settle on a design. I searched Pinterest for Macintosh style roses and found a line drawing to trace. I printed the design onto Sticky Fabri-Solvy and adhered it onto a plain white t-shirt I picked up at Michaels. This allowed me to put the t-shirt in a hoop. I used a chain stitch throughout, and when I finished the stitching with DMC floss, I decided to sew on green sequins I had in my stash.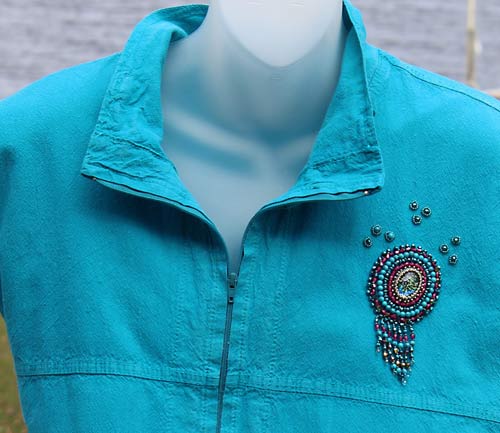 Jean: The bead embroidery on the vest is my own design and just grew from a table covered with beads. I started with a cabochon and stitched a peyote bezel around it. I added rounds of beads using a beaded backstitch, adding two beads at a time. There are crystals, fire polish faceted beads and seed beads. The fringe is a simple fringe stitch with a repeating pattern. It looked a little bare, so I added the groupings of a single round bead surrounded by seed beads.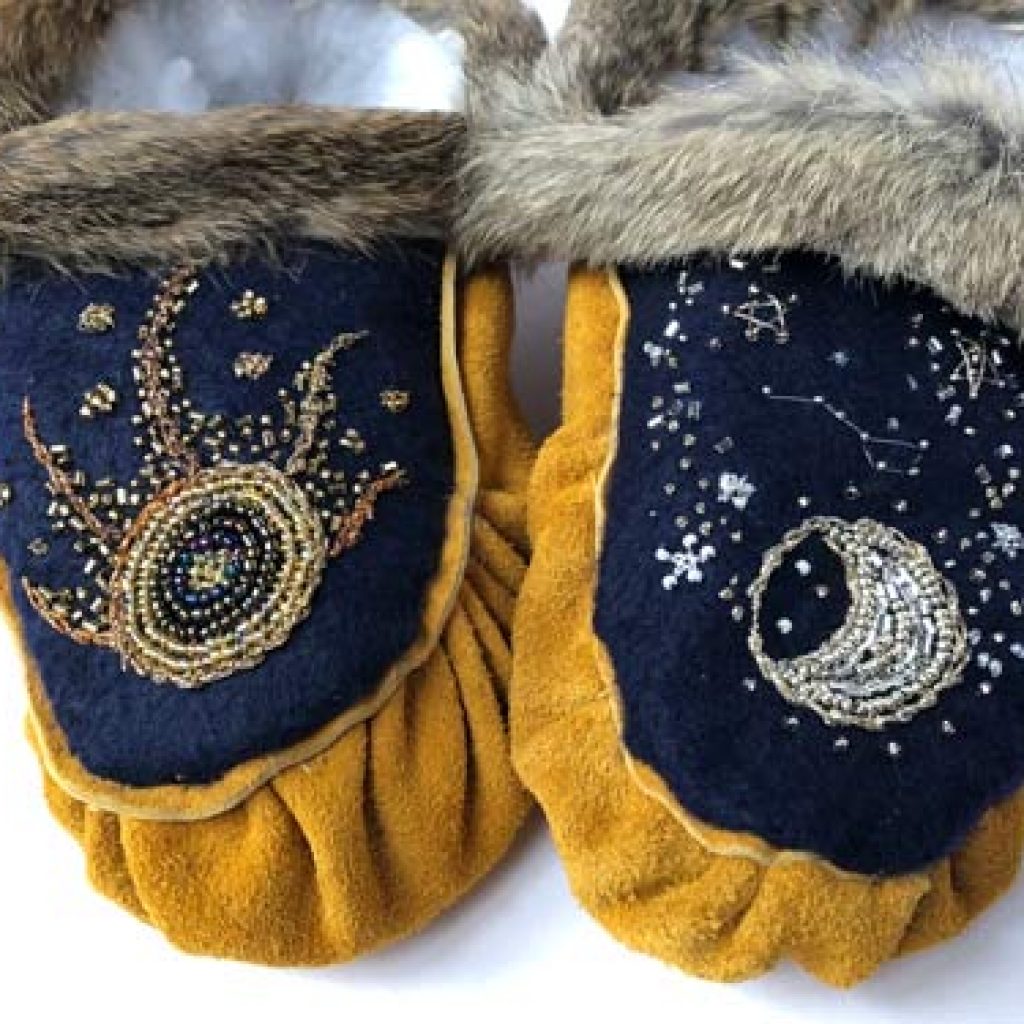 Lisa: I really enjoyed the whole experience involved with making my slippers. It was part of a history course I took at Dalhousie, and so I learned a lot about indigenous textiles and women's history together, which was very interesting. Dr. Lisa Binkley was the instructor and is Anisshnabe herself.
I chose the sun, moon and star motifs because I learned how important the role of the cosmos played in the spiritual and cultural life of Indigenous peoples all across North America. Traditionally the moccasin felt "vamps," as they are called, were just beaded, and the instructor provided the class with a floral pattern to follow, but I saw these as a natural vehicle to also include embroidery, so I asked her if it was okay if I tried something of my own design.
I made up the sun design with glass seed beads and a Kreinik Japan variegated gold metallic thread as I went. Portuguese knotted stem stitch for the embroidery outlining the sun and the centre part of the rays. The moon and stars are loosely based on a pattern I saw in Inspirations magazine, Moon Dance, designed by Susan O'Connor, Victoria, Australia. I used what materials I happened to have in my own stash. Moon and stars are glass and silver Miyuki beads, bugle beads, silver Kreinik metallic braid, and Portuguese knotted stem to outline the moon.
The slippers are made from moose hide, sinew, felt vamps (not wool), polyester fleece lining, and rabbit fur edging. The hide, sinew, and fur came from Dr. Lisa Binkley's Anisshnabe home reservation in Ontario.
Group Tote: Looking forward to Seminar 2020 to be held in Halifax, we were anxious to create something unique that we could take to workshops that would represent Town Clock Stitchers. The perfect solution was a tote bag with our logo. The bag is based on a pattern by Gina Allen at Ginabean Quilts. Melissa designed an abbreviated version of our logo, and it could be stitched on a flap closure for the bag. A pocket on the back was a member's choice from one of the monthly programs. Marie designed and constructed the prototype.