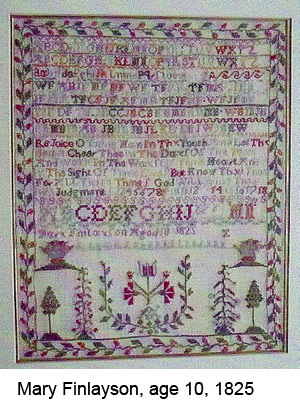 The EAC/ACB sampler registry was created to locate and document samplers in Canada for the purpose of study and research. The samplers that are in museums and private collections reflect the diversity of our nation. Some of the samplers were brought to our shores by immigrants; many stitched in Canada reveal the ethnic origins of the individual's family and community as well as hope for the future in this land. The samplers show vast diversity of skills in embroidery and design, and range from the simplest school child alphabet samplers to sophisticated work using a variety of scripts, imaginative motifs and pleasing colour combinations.
Research into samplers has become quite popular in recent years, and the collecting and study of samplers have increased the value of and respect for these works. There are many websites for sampler enthusiasts, and kits of materials for making reproductions of old samplers abound.
Submissions to the EAC/ACB Sampler Registry
If you wish to take part in this project by documenting samplers, please use our submission form. You can choose our online submission form or our online fillable PDF Sampler Registry Information Collection Form. All submissions, however, require a signed Sampler Registry Owner Form.
Please review the online submission form and gather the information before starting the submission process. Submissions must be completed once started. We have allowed space for additional written information; we suggest you prepare it ahead, copy, and paste it into those text fields.
Please don't be concerned if you have trouble completing the forms; we can help you complete the process. Contact the EAC/ACB Sampler Registrar for assistance or more information.
Every submission must be accompanied by at least one photo, labelled clearly as to which sampler it is connected with. When submitting photos, please send high-resolution files, one photo of the entire piece, and close-ups of various sections to illustrate interesting stitches, motifs, etc.
Although digital submissions of the forms and photos are preferred, you can print copies of the form, fill them in manually (please print clearly), and mail them with the photos to:
EAC/ACB Sampler Registrar
Box 41, RPO Corydon
Winnipeg, MB R3M 3S3
Your submission will be added to the database, and you will receive a registration number and certificate to attach to the sampler. This will show that the information has been documented for future researchers.
Photographs & File Naming
Please prepare your photographs before submission by cropping background areas, if necessary. All images should be in .jpg format. Learn more about submitting photographs. Please rename your photos with the prefix "SAM-" and then similar to the following examples. 
SAM_Stitcher'sName_SamplerName/Title_ImageArea.jpg
SAM-CarlottaJohnson-Home_Full.jpg
SAM-CarlottaJohnson-Home-a.jpg
SAM-CarlottaJohnson-Home-b.jpg
SAM_Stitcher'sName_SamplerName/Title_OrganizationHolding_AscensionNumber_ImageArea.jpg
SAM-Unknown-ROM-47535-376-auy-Full.jpg
SAM-Unknown-ROM-47535-376-auy-a.jpg
---
Accessing the Sampler Registry
You can access information and see photos of the samplers in the online sampler registry. Please contact the Sampler Registrar if you are looking for more information about one of the samplers.
The Leonida Leatherdale Needle Arts Library has CD-ROMs with photos of samplers already in the collection. Please contact the Librarian to borrow a copy of the CD.