by Patty Hawkins, Winnipeg Embroiderers' Guild
On Saturday, April 24 and Sunday, April 25, 2021, The Edmonton Needlecraft Guild hosted its first-ever Virtual Spring Fling (VSF) weekend. Several members of WEG (Helen Bartel, Beryl Burnett, Shirley Ganske, Patty Hawkins, and Karen Sewell, and our friend Jennie Wolter from Calgary) attended on Zoom. It was a fabulous way to spend two whole days stitching with friends from all over Western Canada and as far away as Moncton, NB and even Washington State. Though this blasted Covid-19 pandemic has forced us indoors to stitch in front of computer screens with tinny sound, the definite upside is that it has made it possible for people to gather from far and wide easily and inexpensively to spend time with old and new friends, doing what we love.
Attendance at VSF was capped at 60 lucky participants. For a modest registration fee of just $35, we had a packed schedule.
Saturday opened with a welcome from our host Linda McBain Cuyler, a member of The Edmonton Needlecraft Guild and a talented fibre artist in her own right (www.lindamcbaincuyler.com). As the schedule was on Mountain Daylight Time, we Winnipeggers joined in at 10:00 a.m. A short time later, the group began its first mystery class. With our registration materials, we had received a set of alphabet letters with the instruction to choose one and transfer the outline onto the fabric of our choice. Gwen Loiselle (on Instagram: @onpointquilts), the presenter, featured a short YouTube video, then encouraged those participating to use their imaginations and run with their ideas to embellish their letter. Work on the project continued throughout the day. Lorraine Dielin stitched all the samples of these embroidered letters.
Saturday was punctuated with other activities of interest as well. At noon (6:00 p.m. her time), Deborah Collum (www.deborahcollumloveart.uk) joined us from her home in a little village near Stratford-on-Avon, England, for an hour-long presentation called "Embroidering the Truth." Deborah, a mixed media and fibre artist, shared her screen with us to see her innovative and eclectic designs. Her collages are inspired by her life as a woman and by nature, and continually evolve in style and materials. Her use of different textured fabric as the background for appliqué, found objects, and hand and machine stitching, and the way she employs brilliant colour, combine to form unique and exquisite pieces. From the questions and comments of the participants, it was clear that her work is truly inspirational!
After lunch, we got to explore an expanding embroidery shop in Edmonton called "Embroidery Market Place" (www.embroiderymarketplace.ca). Jennifer Care, the proprietor, began her shop modestly, but it has grown substantially and has now taken over her entire living room – with a second room used for storage! She took us on a virtual tour, sharing her wide selection of fabric, threads, and gadgets – all available in person and online. She welcomed ideas for additional products from the group; I told her about "spool huggers" – recommended by Mary Corbet – for holding excess fabric tucked against your stitching frame so you don't stitch it to your pants! These were new to her – and to Jennie, who ordered some right away!
Our final presentation of the day, at 5:00 p.m. our time, was by Dina Kidd of Calgary, who demonstrated Tunisian crochet. This is a fun and fast way to create beautiful garments, accessories, and soft furnishings (ex. pillows, afghans).
At the end of the day on Saturday, those working on the mystery project did a mini "Show and Tell." A number of lovely designs – some complete, some still in progress – were shared with the group. Helen's piece, pictured, is a stellar example of just what a fabulous stitcher our WEG President is!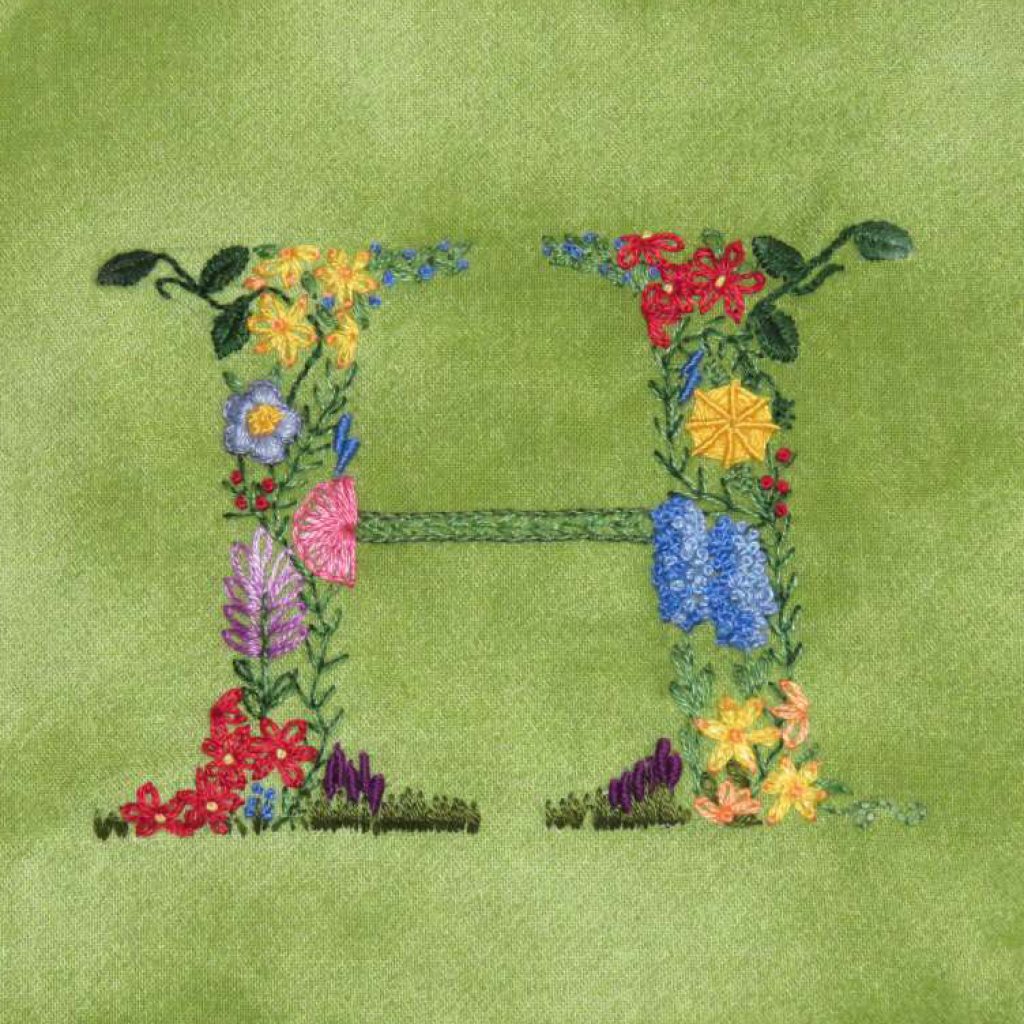 On Sunday, we gathered again, and many took part in Mystery Project #2, a sweet little owl designed by Linda McBain Cuyler that could be finished as an ornament or pin. As everyone chose their base fabric, colours, stitches, etc., each little owl was unique – even down to the kooky ear tufts and the funny twigs some chose as perches. Karen Sewell's example, shown, is adorable! Again people worked on the projects all day.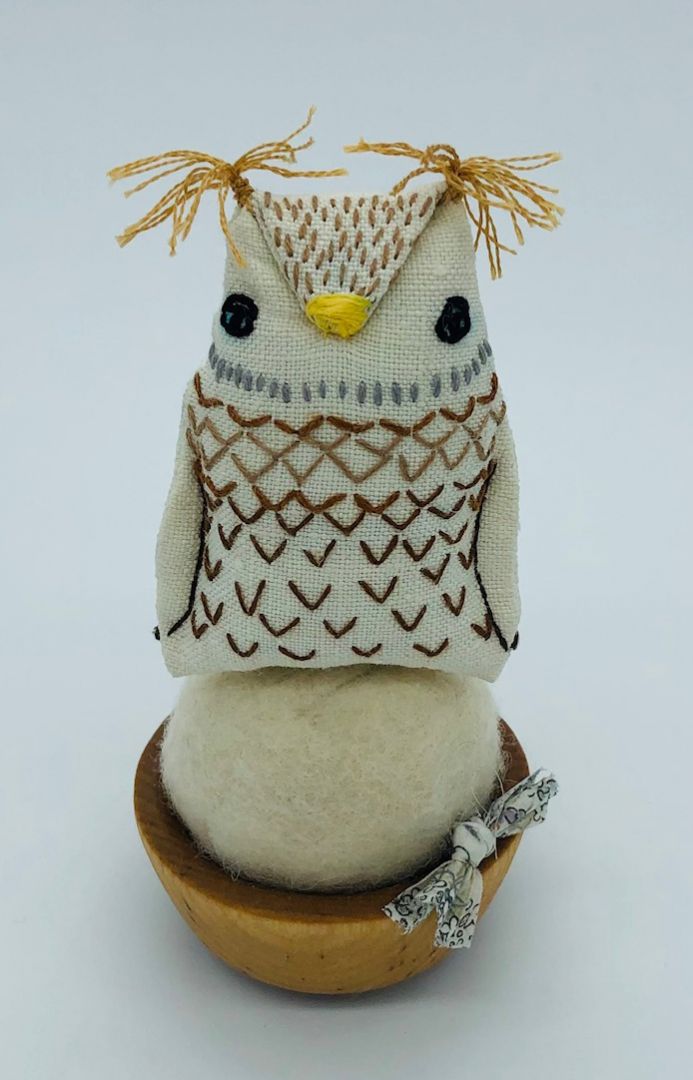 Later in the morning, we enjoyed a pop-up demo from Bert Delisle of East Slope Woodturning (delislebert@gmail.com) in Spruce Grove, Alberta. Bert makes gorgeous wooden items ranging from laying tools and knitting needles to display boxes and wooden bowls. He is a skilled craftsperson, and the video he shared was very interesting. He has built up a solid clientele of stitching and knitting enthusiasts as he is delighted to work with people to produce individual wooden items to unique specifications.
At noon, Jen Goodwin (www.jengoodwinembroidery.com) joined us from Dorset, England. Jen is a graduate of the Royal School of Needlework who does beautiful embroidery, specializing in thread painting and blackwork. (We were all excited to learn that she worked on the Duchess of Cambridge's wedding gown though she is not allowed to give details!) A very engaging speaker with a great sense of humour, Jen walked us through a number of her designs via PowerPoint and spoke about her embroidery career. We were all flabbergasted at the intricacy of her designs and the realistic portrayal of her natural world subjects.
Later on, Dorothy Johansen from "Trapunto Quilt Shop" (www.trapunto.ca) in Edmonton gave us a virtual tour of her shop. Again, we were treated to eye candy galore. Dorothy carries not only a wide range of quilting supplies but also all kinds of items of interest to stitchers – thread, kits, Sashiko, fabric, etc. All are available in-store and online.
As the day wound down, we took a break to retrieve our "hats." We were asked to be prepared for this, and we were not disappointed. From Odette Gaudet's hilarious lobster claw chapeau to Jennie's fascinator and a couple of portrait hats (including mine), we all had a good laugh – and then had to pose for pictures.
The day concluded with a wonderful show and tell session – always a favourite among stitchers.
As Jennie observed, "Edmonton's Virtual Spring Fling was a fun time to visit with so many friends over a dreary weekend in Calgary…" (In fact, it was snowing in Calgary, so what better time to sit and stitch?!) Some of us chose not to do the mystery projects but instead worked away on our own pieces. Jennie was knitting a triangular shawl with an I-cord edging. Shirley was busy beading. I worked on my set of four little sampler stockings designed by Mary Corbet. Jennie also noted that she "… found the format Edmonton used was great along with their suggestions on 'bio breaks' and turning off our videos when not in the 'room.' It was great learning about the tools folks have found. Having a featured shop each day was brilliant, and it provided an opportunity to see what's new out there. Watching each mystery project progress to its completion was great fun. Some stitchers are AMAZINGLY fast!" Though Jennie found it tiring sitting in front of the computer for two entire days, she added that she was so happy to have had the opportunity to reconnect with her stitching friends from all over. And the chair yoga and YMCA dancing sessions were a welcome opportunity to stretch – and look ridiculous while no one could see us! What a laugh!
Helen agreed that it is tough to sit in front of a screen for long stretches of time, "… but it was so nice to be able to see people whom I hadn't seen since the last time I attended EAC/ACB's last seminar. Like Jennie, I loved the focus on shops. Now I have a few more places to stop in when next we get to travel west. I loved that Jennifer has grown her shop so much. The wood-turning demonstration was unfortunately not close-up enough to really be able to appreciate what Bert was doing, but I liked all the different bespoke items he made."
Shirley said that "it was great to connect with stitchers from other areas and share ideas. It was so nice to see all the mystery projects that were finished – or well on their way to being finished – by the end of Sunday. I didn't work on the mystery projects. I may try them at a later date. … I enjoyed the guest speakers. Listening to these fabric artists and seeing their work, and hearing about their process was fascinating. I liked the virtual tours of the stores; it's good to see these new stores featured. I now have some new resources if looking for some things we can't get here. I do find being on Zoom very tiring, as others have mentioned. I like the idea of guilds sharing virtually. I think we can learn so much from each other. I know there were a few technical glitches but considering none of us were doing this a year ago, I think it went very smoothly."
Speaking personally, I thought The Edmonton Needlecraft Guild did a fantastic job of planning a fun and engaging agenda. They chose a variety of guests to feature, and it was great to "go shopping" at the different stores. Linda's daughter Chloe was our tech guru, and she made sure things ran smoothly on Zoom. Though there was the odd hiccup, she was able to sort things out quickly, and, of course, we sat and stitched during the very few delays. Stitchers are nothing if not patient!
I am so glad to have had the opportunity to participate in Edmonton's Virtual Spring Fling. I do hope that, now that we have all gained some proficiency with online gathering, we can get together virtually more often. This may be the only happy outcome of a pandemic that has dragged on for far too long. But how resourceful we are – and how lucky to enjoy creating beautiful handwork, especially while we must stick so close to home. I want to thank The Edmonton Needlecraft Guild and the Virtual Spring Fling organizing committee for jumping in and planning this excellent event. What a great way to spend a weekend!