Marie-Renée Otis is a textile artist — her chosen medium of expression is art embroidery and the overarching goal of her artistic work is to add beauty to the world.
In her presentation, Marie-Renée will share the beginnings of her creative adventure with art embroidery and the various stages of her technical evolution; she will also discuss the recurring images and archetypes in her works: Woman, Mother Earth and the river and mountains of her hometown of Baie-Saint-Paul.
Members, sign in to My EAC/Mon ACB to register for Marie-René's engaging presentation on Saturday, November 18.
4:30 Newfoundland Time
4 pm Atlantic Time
3 pm Eastern Time
2 pm Central Time
1 pm Mountain Time
noon Pacific Time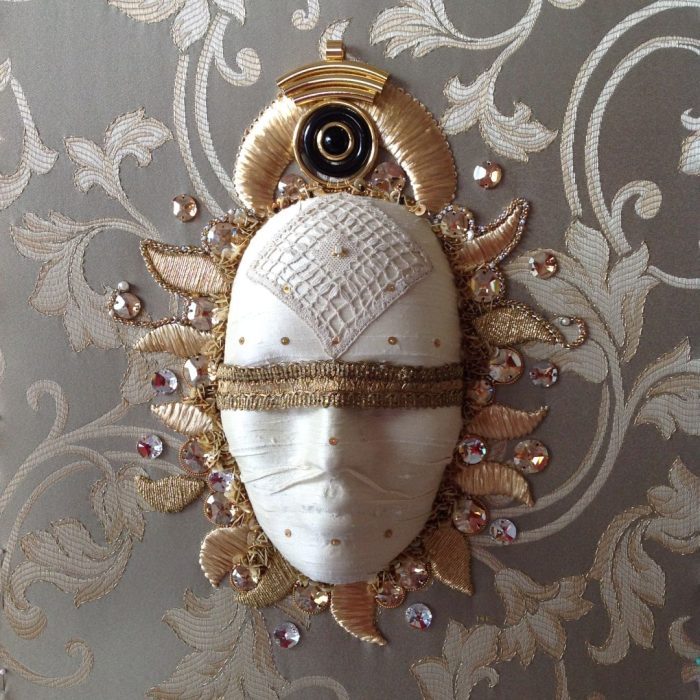 In an increasingly mechanized, technological world, Marie-Renée remains dedicated to hand embroidery, creating unique, contemporary works that combine the past and the present as she uses traditional and historic embroidery techniques and materials sourced from around the world.
Her embroideries are brimming with gold threads, jewelry, stones, beads, and metal pieces, blended and stitched next to each other.
Marie-Renée was born in 1955 and raised in Baie-Saint-Paul, a city known for its vibrant artistic community.
Her interest in drawing and working with her hands began at an early age. Her fascination with textiles came about later, during her CEGEP studies in Québec City. The pleasure and satisfaction she experienced while working with cotton, silks, and wool was why she chose to go to the Université du Québec à Trois-Rivières. At the time, the weaving studios with vertical looms were dynamic and stimulating venues for local art students. Marie-Renée completed her BFA in 1978.
After finishing her studies, she stayed on in Trois-Rivières, married and had two children. Her interests progressed from weaving to embroidery. Working with a needle on canvas allowed her to be even more creative with colours, materials and designs.
After ten years of city living, Marie-Renée fulfilled one of her lifelong dreams: to return to her hometown of Baie-Saint-Paul to live closer to nature and her roots.
In 1986, her work as an artist was put on hold when she became a TV host/reporter at the local station. The job allowed her to develop new personal and professional skills and abilities, but she found herself constantly struggling to balance her public life and her artistic ambitions.
In 1995, she left her media position to embrace the world of education, becoming a teacher at the CEGEP in Charlevoix. She took on this new challenge with enthusiasm and confidence.
Another major shift in her professional career happened in 2001. She finally achieved what she had been hoping to do for many years: become a full-time artist, devote herself to creating art embroidery, open her studio to the public and build a portfolio of works that has gained her local, national and international recognition.
Although her studio is now closed, she continues to be an active member of the artistic community in Baie-Saint-Paul and is recognized as a master of art embroidery. She presents conferences, works with artisans in Africa, participates in many exhibitions, studies techniques from other cultures and other times, teaches occasionally, and networks with artists from around the world.