Metal Threads: A Creative Approach to Line, Flow and Drawing
This event is free for EAC/ACB members. Members, sign in to My EAC/Mon ACB to register for this presentation.
4:30 pm Newfoundland Standard Time
4 pm Atlantic Standard Time
3 pm Eastern Standard Time
2 pm Central Standard Time
1 pm Mountain Standard Time
noon Pacific Standard Time
Hanny Newton creates bespoke hand-stitched pieces using gold, silver and copper threads by applying her creative approach to historical goldwork embroidery techniques. Her passion lies in exploring ways embroidery, print and embellishment can combine to create unique, beautiful textile artworks.
She has recently worked on large-scale projects with clients such as Artelier Art Consultants. She loves collaborating with her clients to create that perfect one-off piece or collection for a project that brings a concept to life with imagination and highly crafted attention to detail.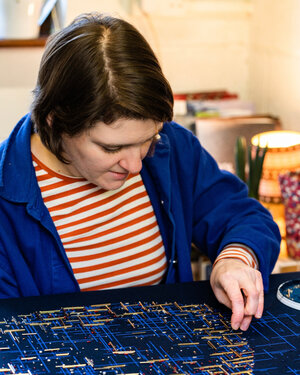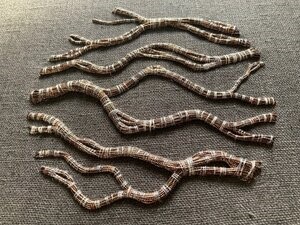 Hanny is known for her contemporary approach to metal thread embroidery. Since studying at the Royal School of Needlework (2013), she has been fascinated by the inherent qualities of metal threads. She deeply believes in the importance of innovation and self-expression to keep crafts alive.
From her studio in Shropshire, UK, she works primarily with interior designers and art consultants to create projects for hotels, restaurants and private residences internationally.