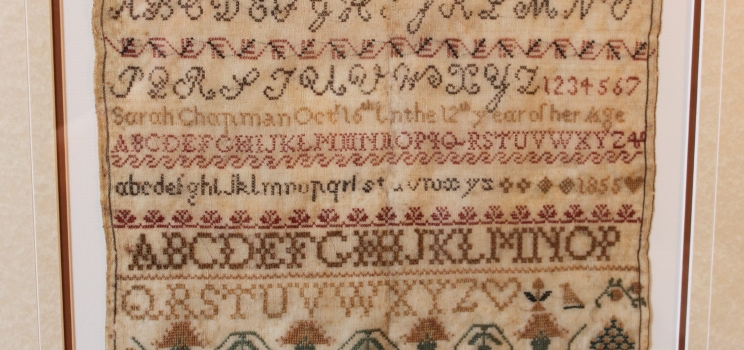 Sarah Chapman
Estimated Date Stitched:
1855
Estimated Age of Stitcher:
12
Name of Stitcher:
Sarah Chapman
Type of Sampler:
alphabet, numbers
Size of Sampler:
Width: 12.5in
Height: 10.25in
Condition: Good
Description of condition:

Approximate thread count:
32
Embroidery thread type:
cotton
Number of letters: Number of Alphabets: 4
Case: Upper Case, Lower Case
Description of alphabets:

Number of sets of numerals: Number of sets of numerals: 1
Description of numerals:
1 – 7
Borders: other – wavey floral vine
Type of stitches: other – cross stitches and eyelets
Name or initials on sampler: Sarah Chapman
Verse or Inscription:

Sarah Chapman Oct 16th in the 12th year of her age 1855
Owner / Donor Story:

This sampler was passed to me by my Aunt Margaret. Sarah was born in Harbour Breton, NL, in 1843 to Eleanor Tibbo and Benjamin Chapman. She moved to Fortune in her early 30's and married a widower, William Pitman Lake. Their daughter, Eleanor, married Felix Tibbo and they had four children, and lived in Grand Bank. Sarah's daughter, Eleanor did a sampler that was mainly copied from this one.
Photographs
No. of photographs: Number of photographs: 6
Description of photographs:

Reference numbers: (Museum, archive or other references associated with sampler)