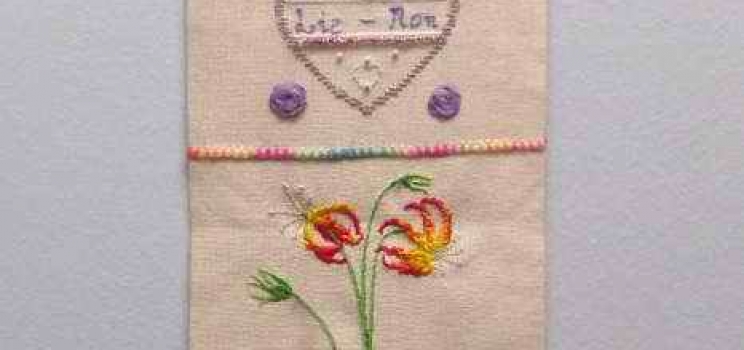 SAM-12008
Estimated Date Stitched:
2011
Estimated Age of Stitcher:
Over 60
Name of Stitcher:
Liz Wilken [Kirby]
Size of Sampler:
Width: 6in
Height: 19in
Description:

Metal Hanger
Condition: Good
Description of condition:

Fabric Type:
other*
*Even Weave Linen
Approximate thread count:

Description of alphabets:

Number of sets of numerals:
Motifs: plants, animals, family record, other
Name or initials on sampler: Life Sampler
Other Information:

The elephant and flag depicts Liz's birth in Africa of Salvation Army parents
The motto is from the school where she met her husband Ron.
The two roses near the heart are for her two daughters.
The flame lily is the flower of her home country.
The snow and coloured leaves are for the family moving to Canada
At the bottom are Liz's hobbies of sewing, knitting, gardening, camping and her cat.
Photographs
No. of photographs: Number of photographs: 1
Description of photographs:

Reference numbers: (Museum, archive or other references associated with sampler)