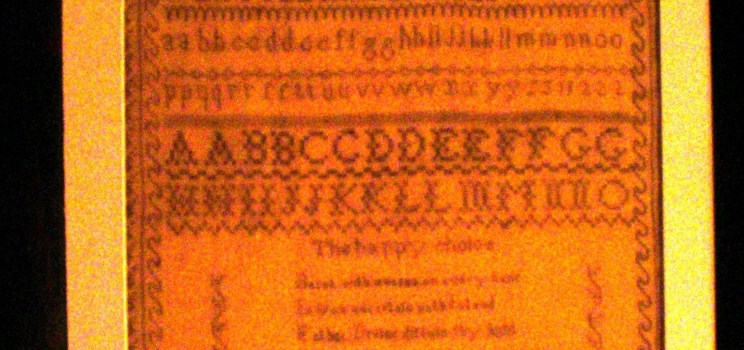 SAM-06012
Estimated Date Stitched:
Sept 6, 1838
Estimated Age of Stitcher:

Name of Stitcher:
Emily Cheeseman
Type of Sampler:
alphabet
Size of Sampler:
Width: 31cm
Height: 40cm
Condition: Excellent
Description of condition:

Approximate thread count:
60
Embroidery thread type:
cotton
Description of alphabets:

Number of sets of numerals:
Borders: Flower Pattern – Flower border on the outside, and inside border has a wave pattern.
Name or initials on sampler: Emily Cheeseman
Verse or Inscription:

The happy choice/Beret with snares on every hand/In life's uncertain path I stand/Father Devine diffuse thy light/To guide my doubtful footsteps right/Engage to choose the better part/To scorn the trifles of a day/For joys that never fade away
Owner / Donor Story:

Sampler was discovered in the collection of the Art Gallery. No record exists as to its origin or donor.
Other Information:

Accession Number: 94.9.1
Photographs
Description of photographs:

Reference numbers: (Museum, archive or other references associated with sampler)