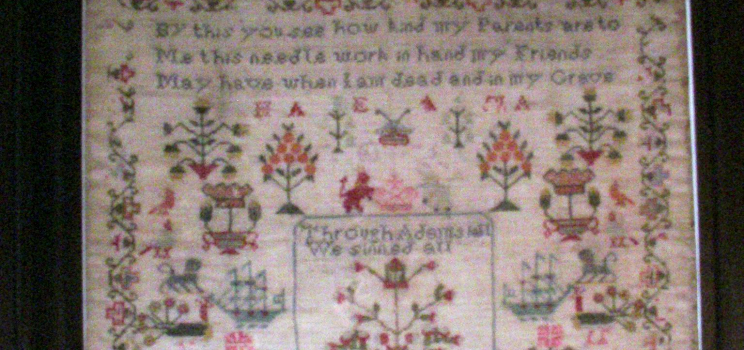 SAM-04007
Estimated Age of Stitcher:

Name of Stitcher:
Thomasin Atkinson
Type of Sampler:
alphabet
Size of Sampler:
Width: 42.5cm
Height: 46.5cm
Condition: Good
Description of condition:

Approximate thread count:
30
Embroidery thread type:
cotton
Description of alphabets:

Number of sets of numerals:
Borders: other – Unspecified
Motifs: plants, religiuos, family record
Name or initials on sampler: Thomasin Atkinson
Verse or Inscription:

Thomasin Atkinson Work
Finished in this 17
Verse: She thanks her parents. Initials…HA,EA,MA
Owner / Donor Story:

Donor story: Unknown. Donor lived in Ferndale, Michigan, USA.
Donor: Robert Patterson, Ferndale, Michigan. Found in collection in 1966, given in memory of William Owen's family.
Other Information:

On back it says Eva Owens. Called Adam and Eve Sampler at Museum. Located in Milner House at Museum.
Photographs
Description of photographs:

Reference numbers: (Museum, archive or other references associated with sampler)
Accession Number: 966.4.1