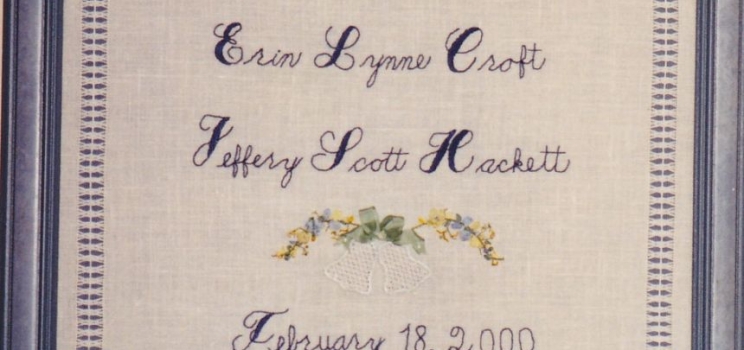 Erin and Jeff's Sampler
Estimated Date Stitched:
2000
Estimated Age of Stitcher:
52
School and/or Teacher:
None
Name of Stitcher:
Dale Laura Edwards
Size of Sampler:
Width: 13.5in
Height: 17in
Description:

This multi-technique sampler is stitched on linen ground. The techniques are cutwork bow, ribbon hearts, Monogram names and date, ribbon bow, Hardanger hearts, drawn thread border and lace corner.
Condition: Excellent
Description of condition:

Excellent, with no tears or stains
Approximate thread count:
180
Embroidery thread type:
other*
*silk thread, silk ribbons, pearl cotton
Description of alphabets:

Number of sets of numerals:
Borders: other – Drawn thread
Motifs: other**bow, hearts, bells, floral sprays
Type of stitches: other – surface, buttomhole for cutwork, eyelet, satin for Hardanger, dove's eye, monogram, ribbon stitches, wrapping on drawn thread.
Name or initials on sampler:
Verse or Inscription:

Erin Lynn Croft Jeffery Scott Hackett February 18, 2000 St. Andrews Presbyterian Church, Streetsville, Ontario, Canada
Owner / Donor Story:

OWNER STORY February 18, 2000 was a stormy day in Mississauga, Ontario but it was my wedding day and I loved it. As a permanent reminder of this occasion, my Auntie Dale designed and completed this beautiful embroidery. I love the way it is so delicately designed and yet shows the talented ability of the artist. Thank you Auntie Dale for the hours of love you put into this special piece. It will be forever valued in our home.
Other Information:

I thoroughly enjoyed stitching this sampler and am happy that their marriage has survived and thrived through the development of a family of four healthy, hearty boys and wish them well for the future.
Photographs
No. of photographs: Number of photographs: 5
Description of photographs:

Reference numbers: (Museum, archive or other references associated with sampler)