---
Currently, we have a 50th Anniversary challenge to create a piece of wearable embroidery and feature our new 50th Anniversary pin. Get all of the details on our web page dedicated to all things 50th!
---
Artist Trading Cards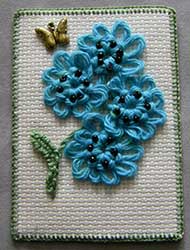 The EAC/ACB artist trading card challenge began in 2006. The collection of cards totals 333 cards from 12 youth members, 64 Canadian stitchers and four international stitchers! We hope you enjoy viewing these miniature works of art and that you are inspired!
The following PDF documents (large files) open in a new page.