301: Jacobean Sunset by Alison Cole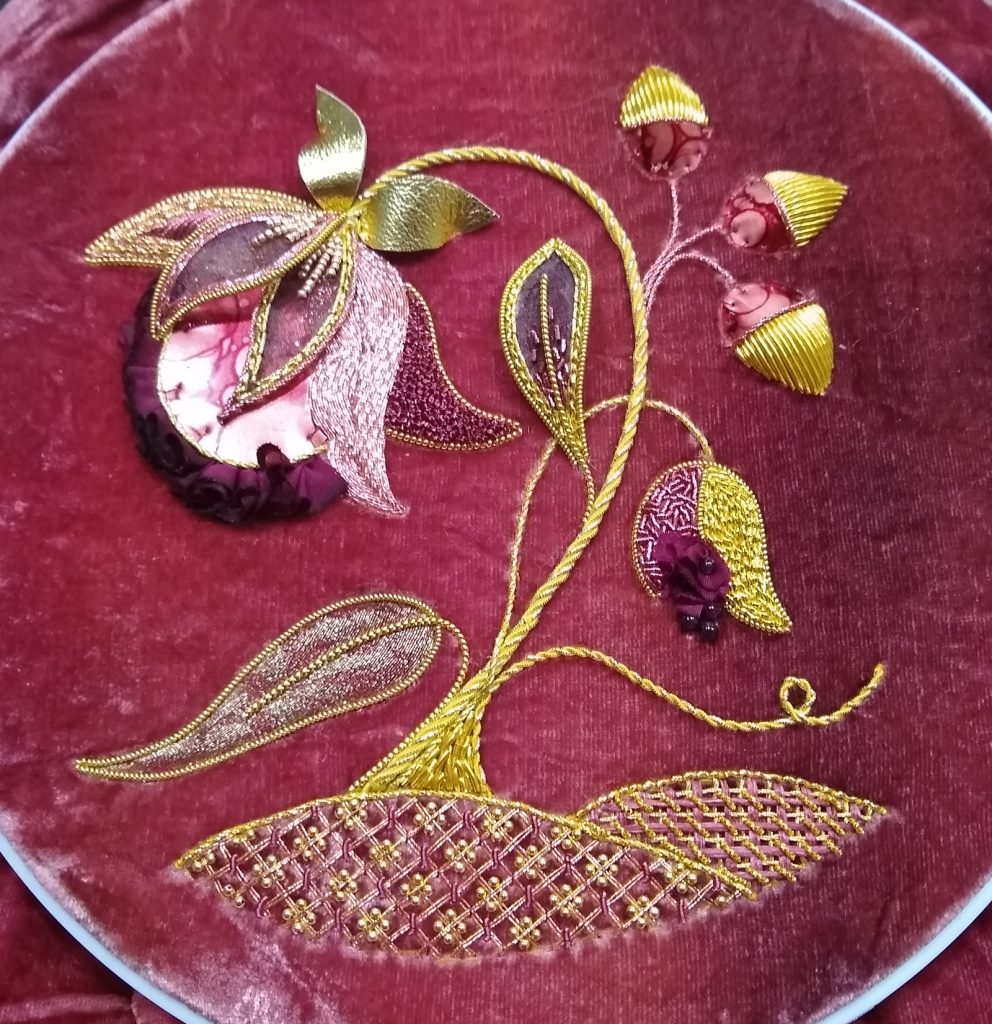 Jacobean Sunset features detached elements worked in a technique that I learned in France many years ago, along with trellis and battlemented couching to create depth.
The design is worked on Hanah hand-dyed velvet and has a treasure trove of ingredients.
Suitable for intermediate to advanced embroiderers or those who like a challenge.
Technique: Goldwork :: Skill Level: Intermediate / Advanced :: Pre-Work: None :: Size: 6½" x 6½" :: Kit Cost: $175
---
302: Winter's Frost by Wendy Innes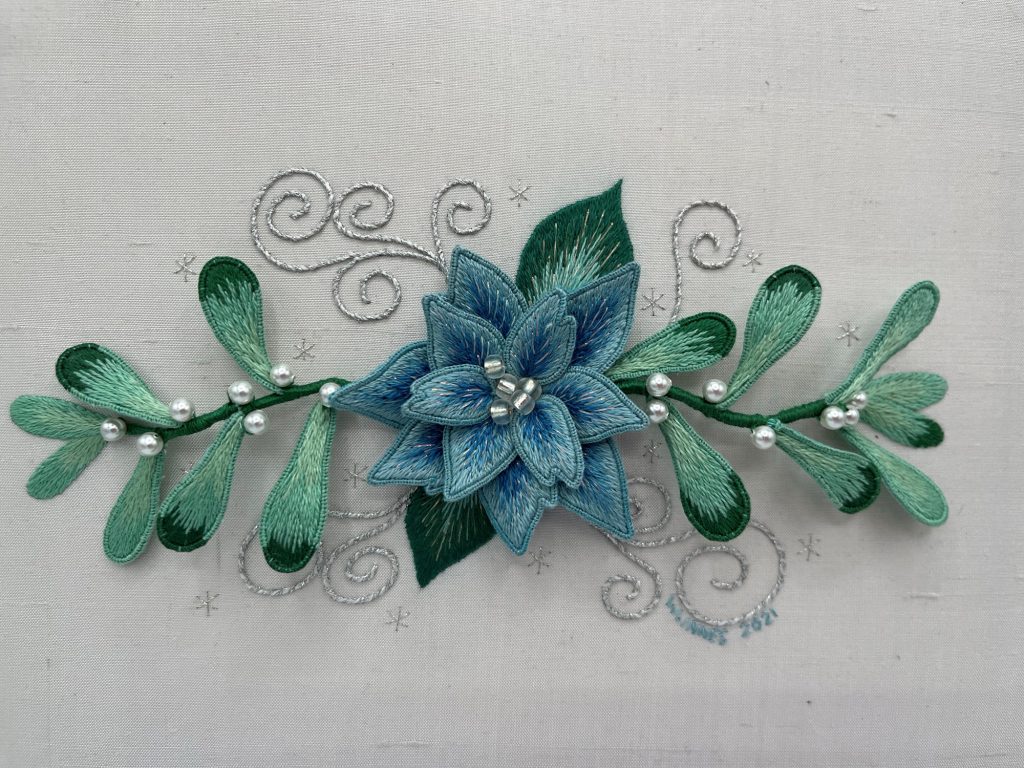 Winter's Frost is an icy rendition of the classic poinsettia and mistletoe worked in cool shades of blues and soft greens with pearlescent shimmers of silver and white to add to the glacial feel of the piece.
This piece is worked on a silk background with mainly silk threads, metallic touches and accents of silver-lined beads and pearls.
Students will learn to shade petals and leaves, create numerous wired detached elements to give dimension and add multiple wired elements to a wire base for additional depth.
Technique: Stumpwork :: Skill Level: Basic / Intermediate :: Pre-Work: None :: Size: 3⅛" x 6¾" :: Kit Cost: $90
---
303: Cotton Candy by Carol Storie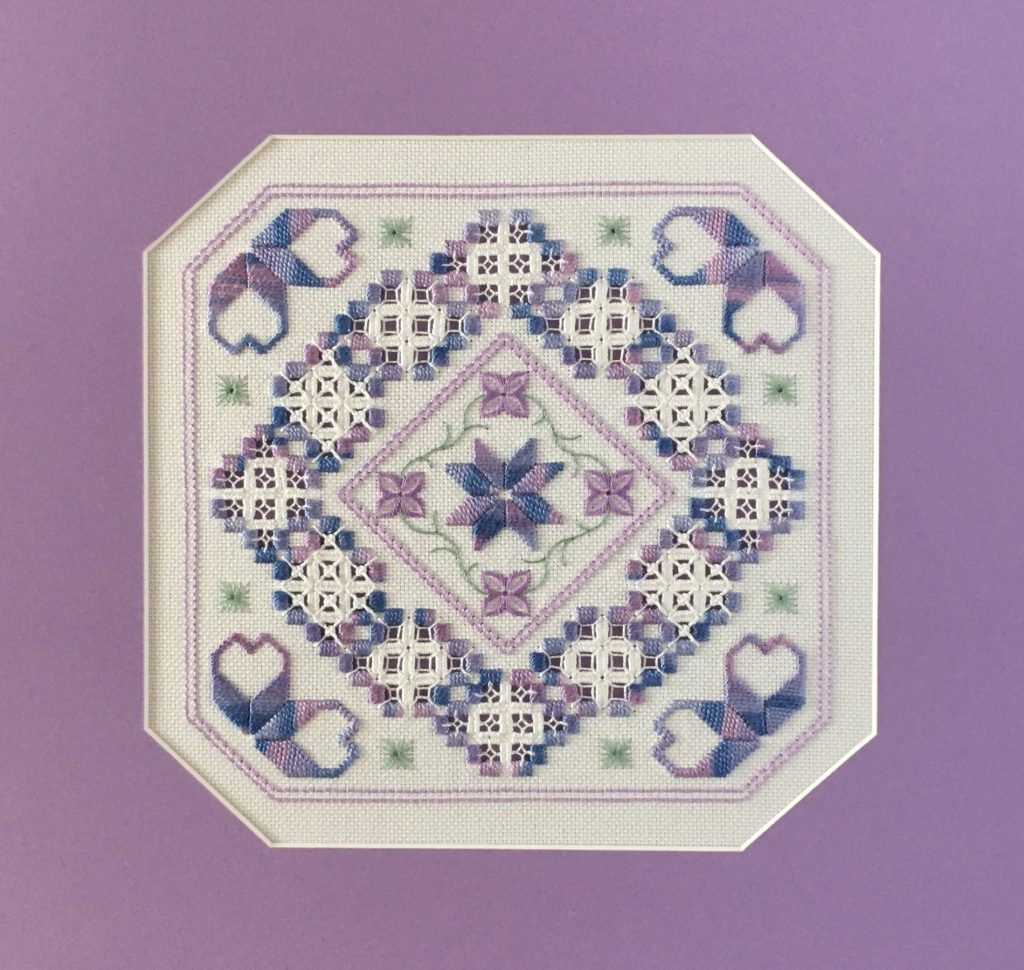 The colours in this delicate piece remind me of cotton candy! It is 7" square and stitched on 22-count Hardanger fabric with DMC threads. Students will learn how to stitch the Klosters and motifs, cut threads, three different filling stitches, and stitch petite flowers made with scalloped crescents and whipped backstitched vines.
Students who can follow diagrams will be comfortable with this design, and all levels will enjoy making this piece.
Technique: Hardanger :: Skill Level: Basic/Intermediate :: Pre-Work: None :: Size: 7"x 7" :: Kit Cost: $38
---
304 Black, White and Bling by Linda Lachance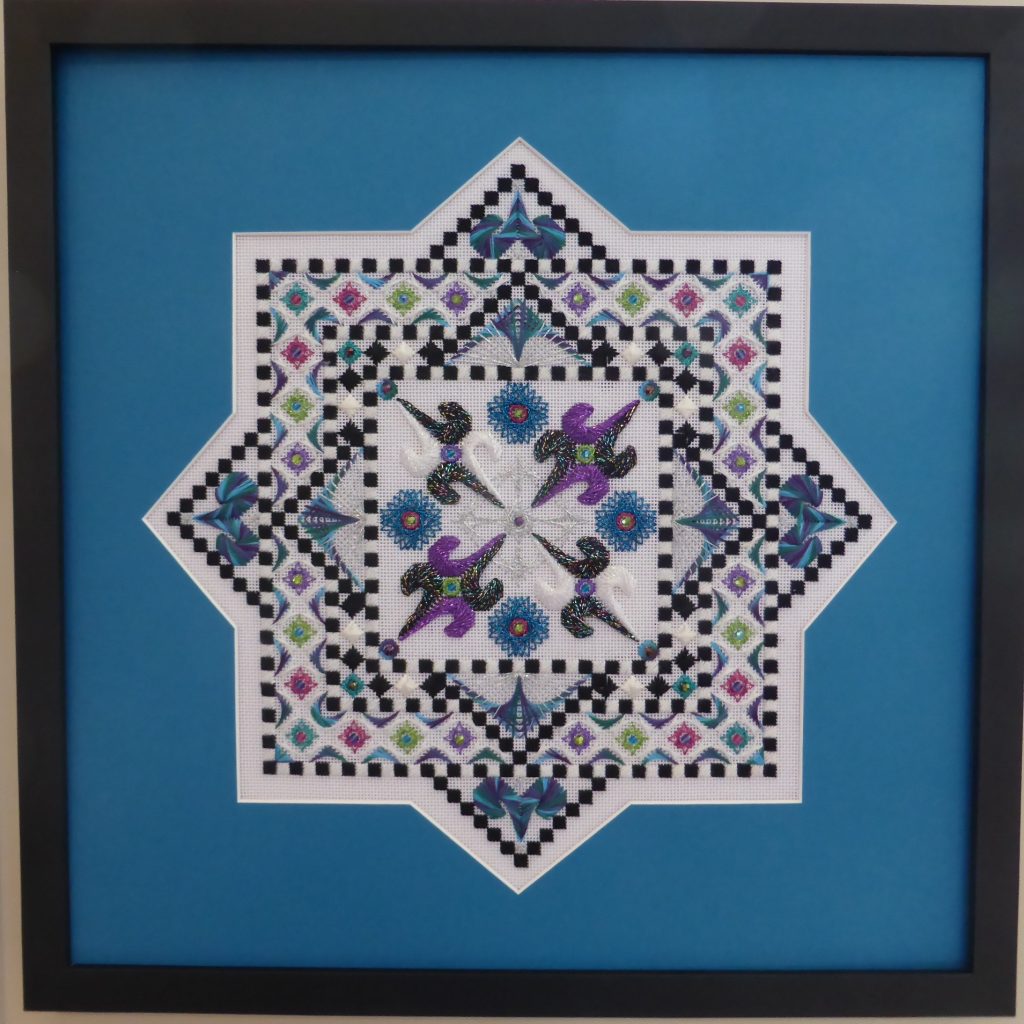 This design features a sparkling centre panel with mirror-imaged fleur de lis stitches. This eye-catching centre includes Jessica and Amadeus stitches in various sizes and is stitched in bright purple and sparkly black Goldrush, offset with black and white pairs of fleur de lis. The border consists of black and white alternating scotch stitches, which provide exciting contrast against the coloured metallics and textured stitches used in the border stitches.
Other stitches in the design include diamond Jessicas, crescents, Rhodes, slanted oblong crosses and fleur de lis. Real crystal beads are used in abundance to add beauty and bling.
Black, White and Bling is a companion piece to Calypso.
Technique: Canvaswork :: Skill Work: Intermediate :: Pre-Work: None :: Size: 12" x 12" :: Kit Cost: $180
---
305: Weaving and Stitching by Dale Rollerson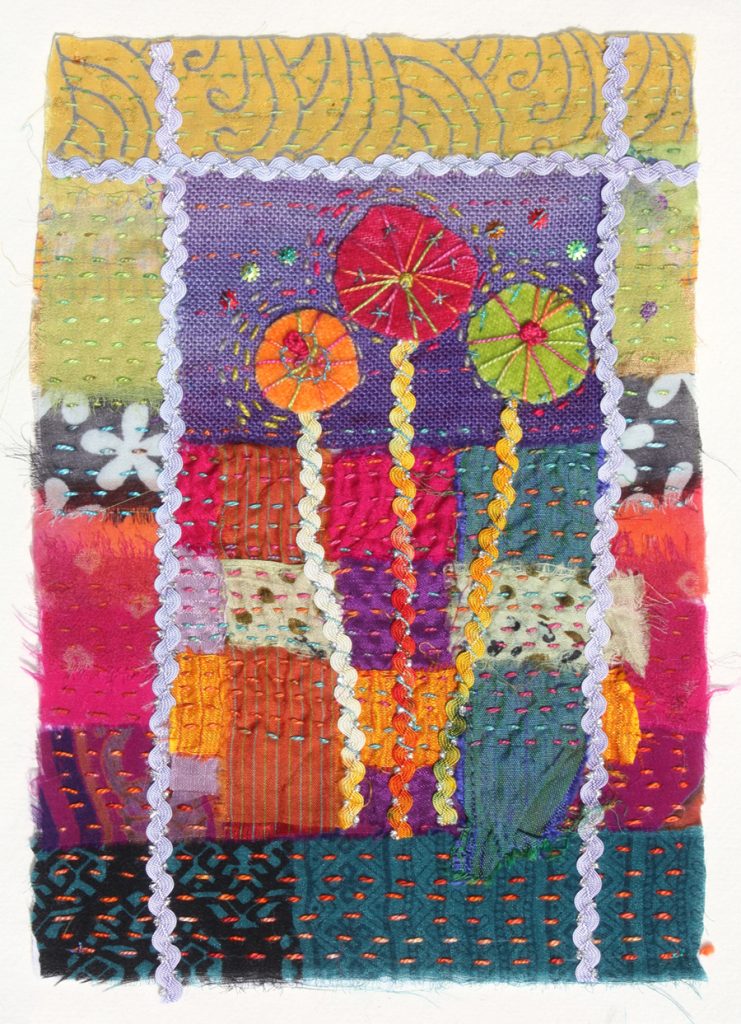 What wonderfun – weaving to create a base cloth for further work. Weaving a base is easy, and there are so many variants. A woven base can be organic and an excellent framework for stitching. This is a class to explore, create and leave your inhibitions at the door. The texture is out of this world, and your results will be unique to you.
Techniques: Surface Embroidery :: Skill Level: All Levels :: Pre-Work: None :: Size: 6" x 8" :: Kit Costs: $75
---
306: Sketch to Stitch by Monika Kinner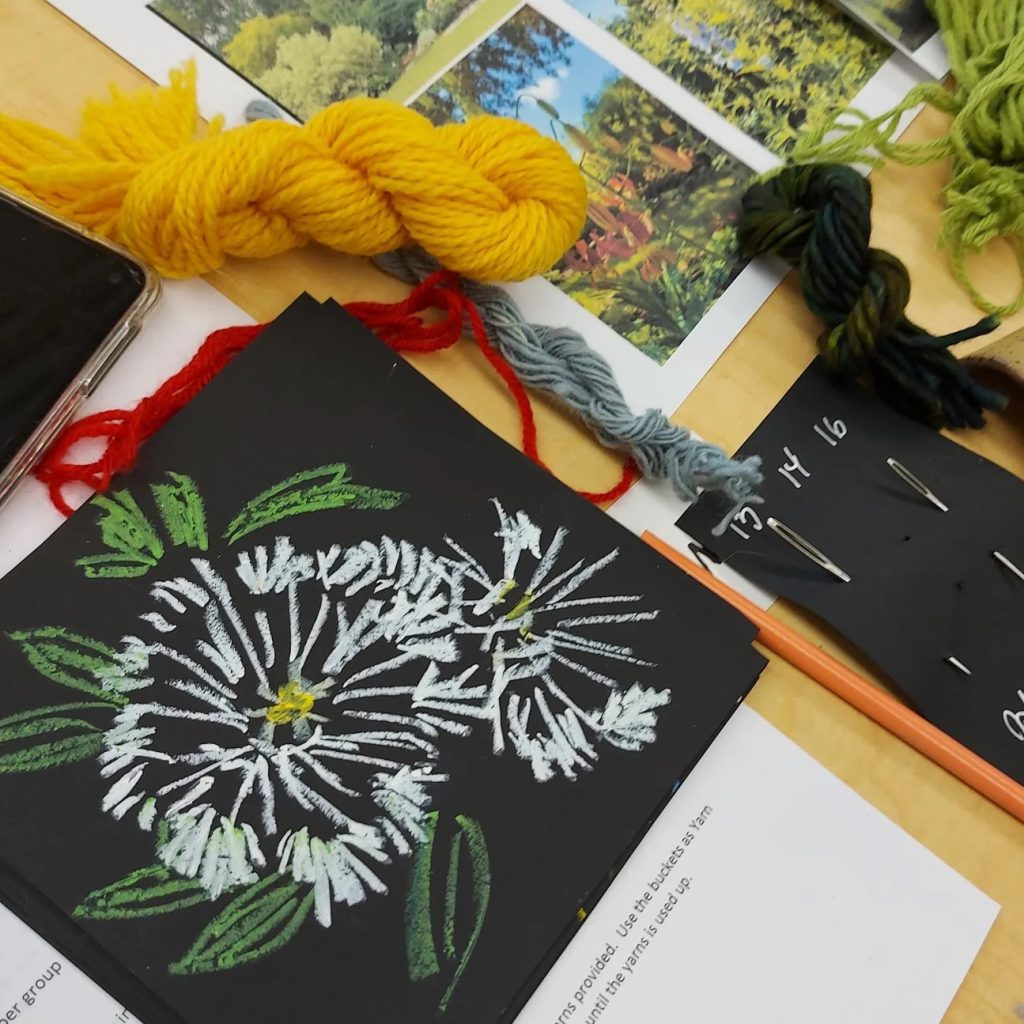 Have you ever wanted to stitch a favourite photo that you have taken? This is the class for you! Students will be guided through sketching and mark-making from an image of their own.
You will then explore various stitches, threads and finishing examples to create your one-of-kind stitched photograph.
Technique: Surface Embroidery, Colour & Design :: Skill Level: All Levels :: Pre-Work: None :: Size: 5" x 5" :: Kit Cost: $60
---
307: FULL Summer's End by Deborah Mitek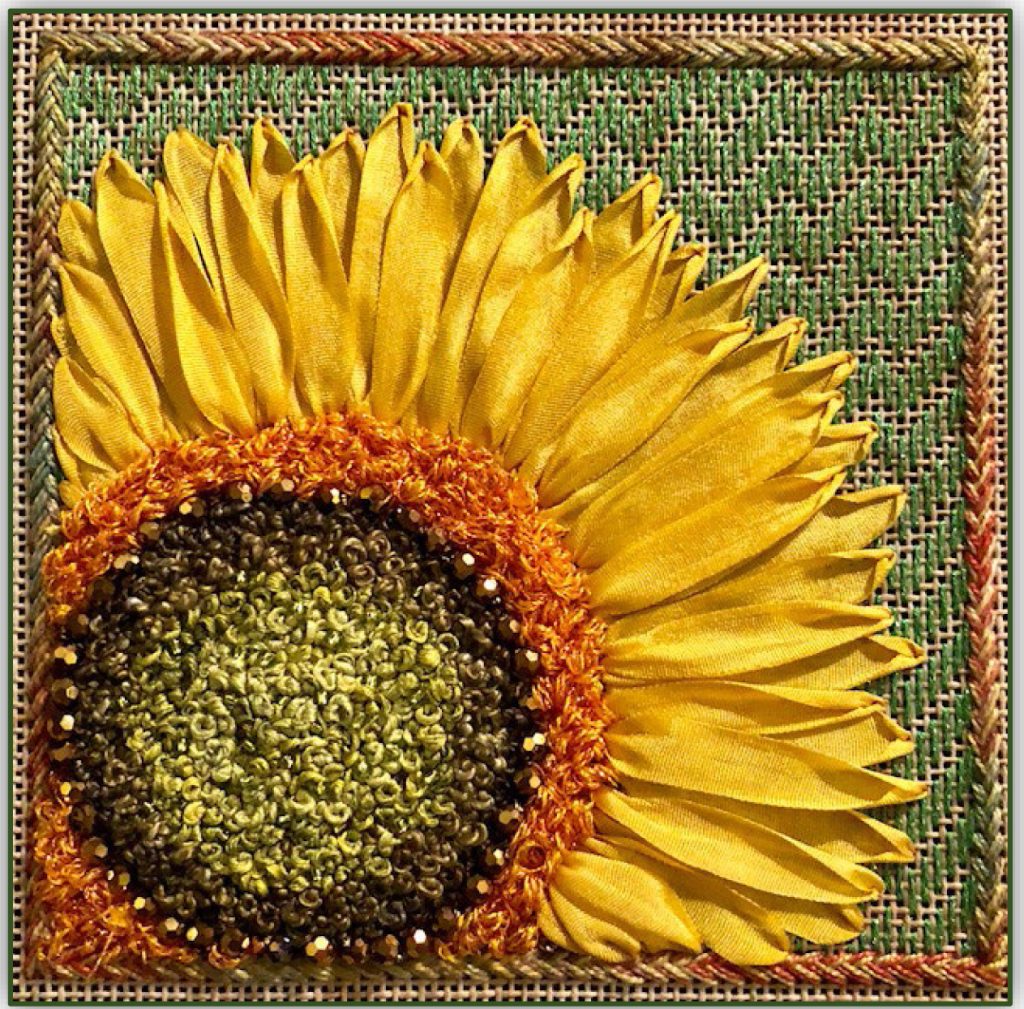 Summer's End heralds one of the last flowers, the sunflower. Students will learn the basics of silk ribbon embroidery and other canvas techniques. Dimension and texture are created by using a variety of threads and silks in various sizes. The shaded centre is created with three overdyed threads using different sizes of French knots.
The 18-count sandstone vintage canvas is an excellent ground fabric to add shading to the background stitching. The design uses Treenway silks 7mm silk ribbon, Caron Wildflowers and Watercolors, Silk Road straw silk, Rainbow Gallery Entice and Petite Silk Lame Braid, Kreinik #4 braid luminescence and for embellishment, Mill Hill seed beads and 3mm faceted gold iris round beads.
Technique: Silk Ribbon Embroidery :: Skill Level: All Levels :: Pre-Work: None :: Size: 4" x 4″ NOTE THIS CORRECTION :: Kit Cost: $85
---
308: Romantic Needle Set by Kim Beamish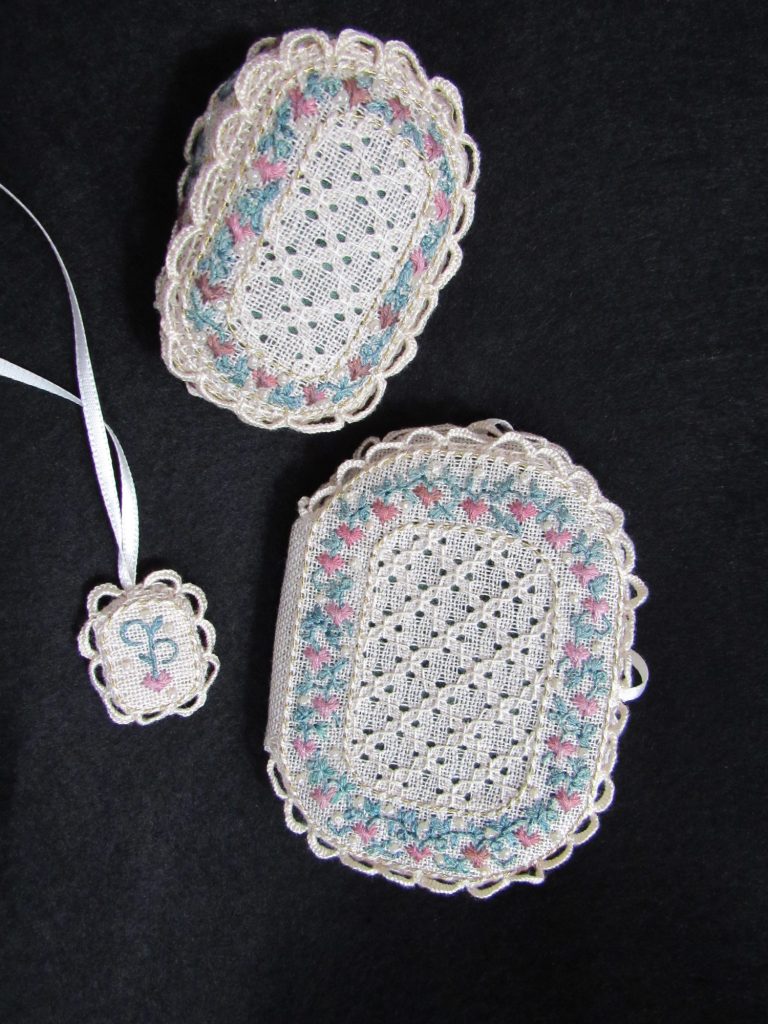 This practical needle set includes a needle book, scissor fob and pin cushion. Pulled thread and surface embroidery are used to complete the design. The needle book consists of a needle page and a small pocket on the inside. All pieces are worked on 28-count linen and finished with detached buttonhole edging.
Class time will be spent on stitches and fillings used, as well as the assembly of each piece of the set. Stitching will start in class and finish at home.
Technique: Pulled Thread & Surface Embroidery :: Skill Level: Intermediate :: Pre-Work: None :: Size: 3¼" x 4" Needlecase; 2½" x 3" Pin Cushion; 1" x ½" Scissor Fob :: Kit Cost: $110
---
309 :: Stitching Only

Enjoy the camaraderie and activities of the seminar while you stitch on your own projects. Stitching-only registrants will have a dedicated space for stitching with the same breaks and door prize draws as class registrants.