101: FULL Dragonfly Dreaming by Alison Cole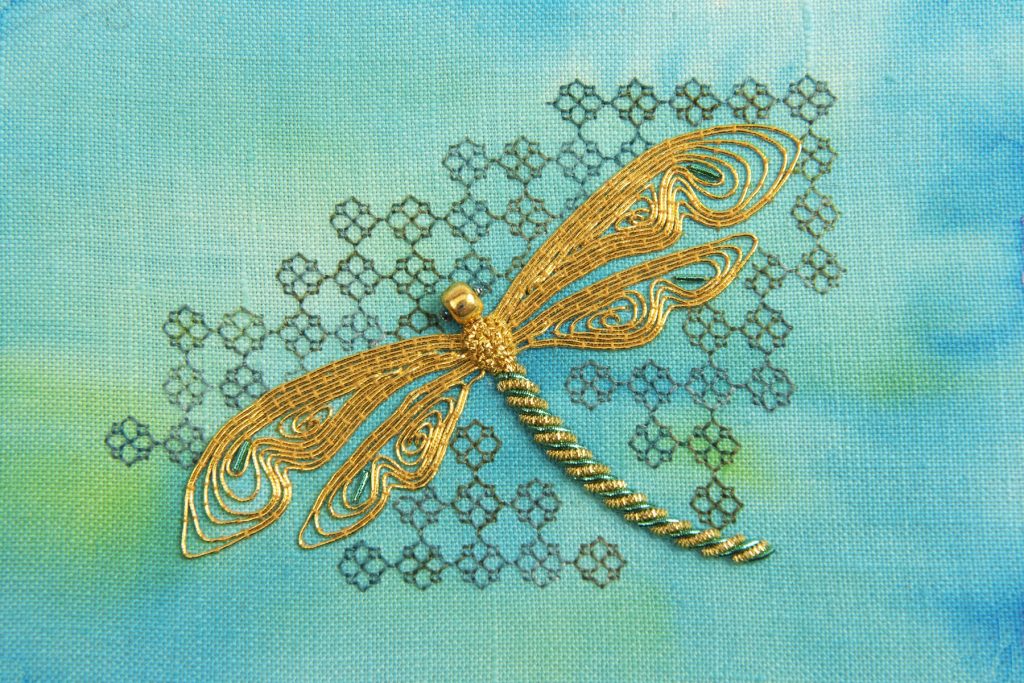 Dragonfly Dreaming is an excellent introduction to goldwork for those who have yet to be enticed. It is worked on hand-painted 45-count linen embellished with blackwork embroidered with overdyed silk.
Technique: Blackwork & Goldwork :: Skill Level: All Levels :: Pre-Work: None :: Size: 4"x 3" :: Kit Cost: $75
---
102: Blossoming Grids by Dale Rollerson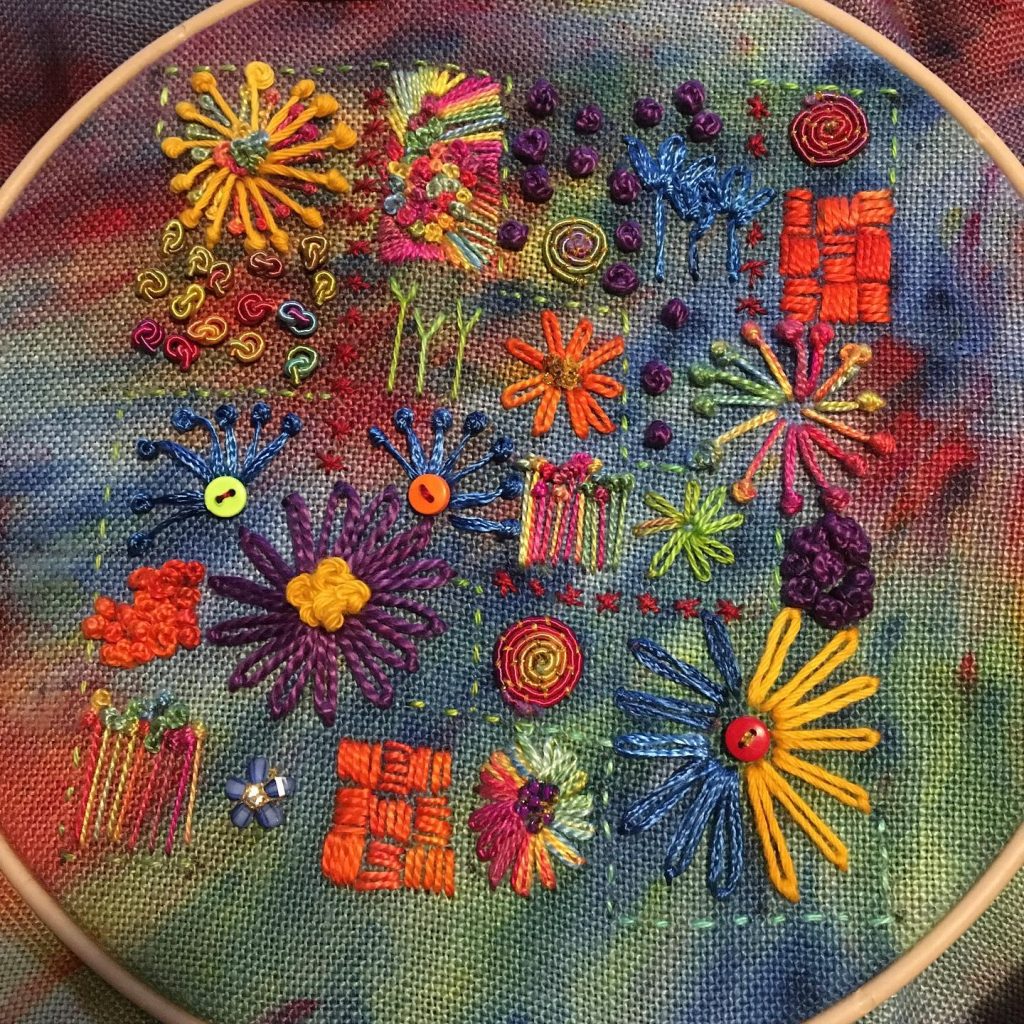 This is a fabulous way to spend your day stitching. This is the perfect opportunity to learn new stitches and practice French knots, satin stitch, detached chain stitch, pistil stitch, couching, fly stitch, long and short stitch and Turkey work, to name a few.
You will be introduced to different threads and embellishments. This class will get you started on an enjoyable, creative and achievable slow-stitch project for all levels.
Technique: Surface Embroidery :: Skill Level: All Levels :: Pre-Work: None :: Size: 5" x 5" :: Kit Cost: $70
---
103: Damsel in Flight by Deborah Mitek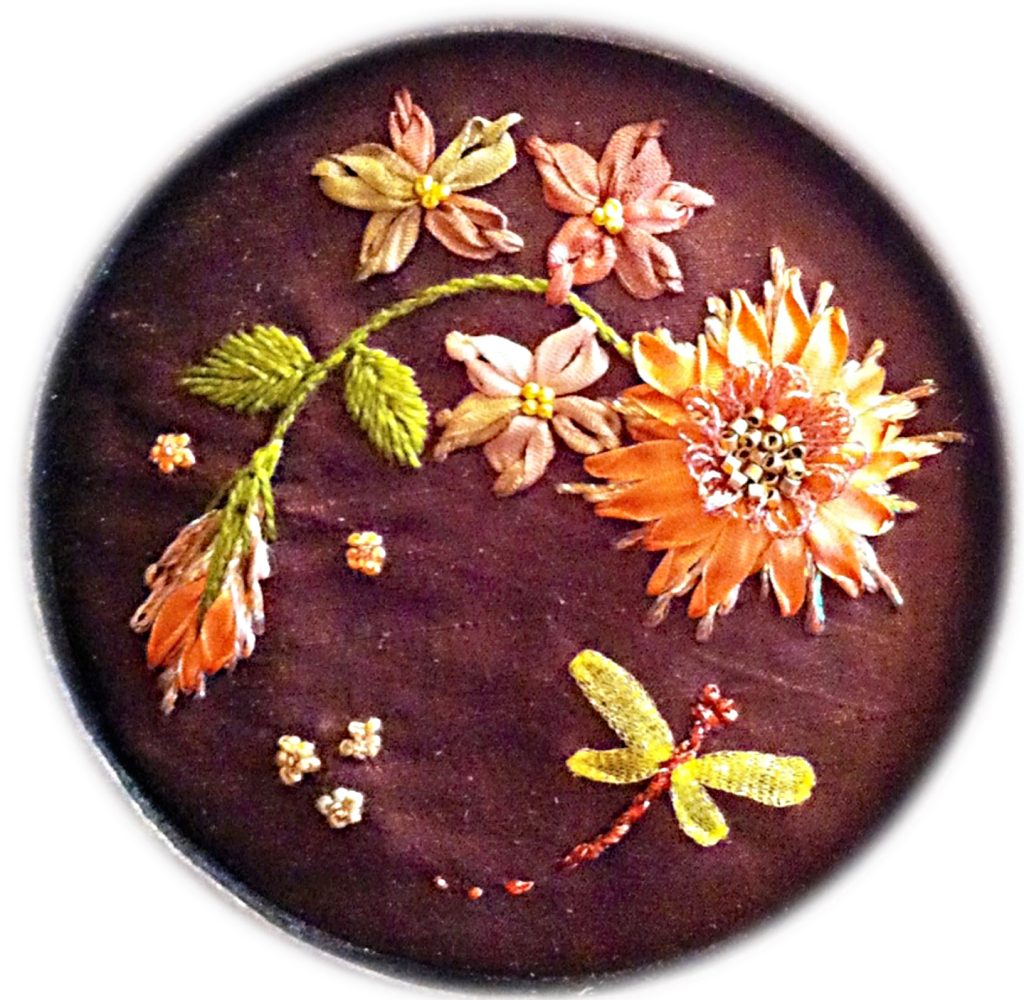 Join Deborah to stitch this charming damselfly hovering in the garden flowers. Students will increase their skills in silk ribbon embroidery by learning more surface stitches and advanced ribbon embroidery techniques.
The 10" x 10" background fabric is a beautiful silk dupioni. The design uses 4mm and 7mm overdyed silk ribbons, pearl cotton, Needlepoint Inc silk threads, DMC rayon thread, Caron Wildflowers and Rachelette and Rainbow Gallery Petite Silk Lame Braid along with Magnifica metallic beads.
Stitches include the ribbon stitch, loop stitch, stem stitch, fishbone stitch, detached chain stitch and French knots.
Technique: Silk Ribbon Embroidery :: Skill Level: All Levels :: Pre-Work: None :: Size: 4" round :: Kit Cost: $75
---
104: Amphitrite Needlecase by Wendy Innes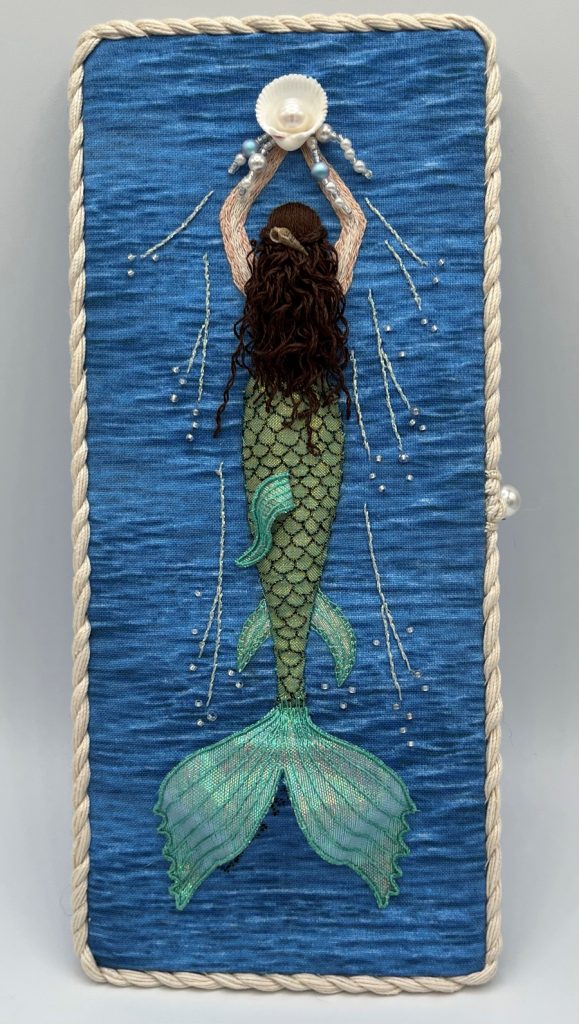 This ocean-themed stumpwork needle case was inspired by the Greek goddess Amphitrite-wife of Poseidon. This is the first part in an Oceania-themed needlework set, although each piece can stand alone.
Students will learn several useful stumpwork techniques, such as using felt to add dimension, working on a slip and adding to the main design, working a detached element using wire, creating curly hair and adding to your piece.
Amphitrite is worked on a cotton background using metallics, rayon and DMC floss.
Technique: Stumpwork :: Skill Level: Basic / Intermediate :: Pre-Work: None :: Size: 2¾" x 8" :: Kit Cost: $72