401: Spring Blossom by Barbara Kershaw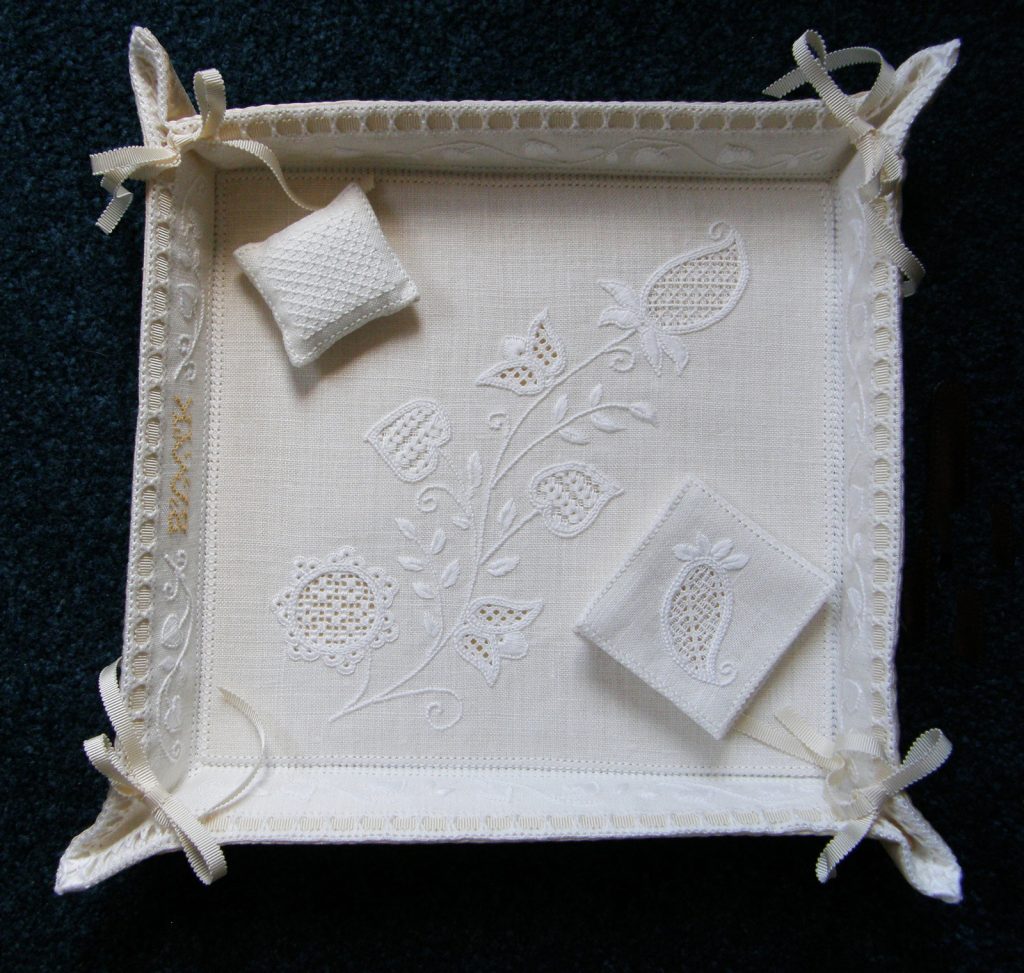 Schwalm embroidery in a French purse! This sewing tray is ideal for taking to a workshop or when travelling. It will sit flat in your bags but fold up to a useful tray so that your sewing accessories do not roll away and go missing, add the matching pin cushion and needle case for a lovely set.
The design includes the traditional heart, tulip, circle motifs, and a lovely leaf shape. The filling stitches will consist of the coral knot and chain stitch, rose stitch, eyelet variation, and a couple of composite stitches. Instructions will be given for finishing the French purse. Left-handed instructions are available.
Technique: Schwalm Embroidery :: Skill Level: Intermediate :: Pre-Work: None :: Size: 13" x 13" French purse, 3"x 3" Needle case, 2"x 2" Pin cushion :: Kit Cost: $115
---
402: Dragonfly Dreams by Naomi Smith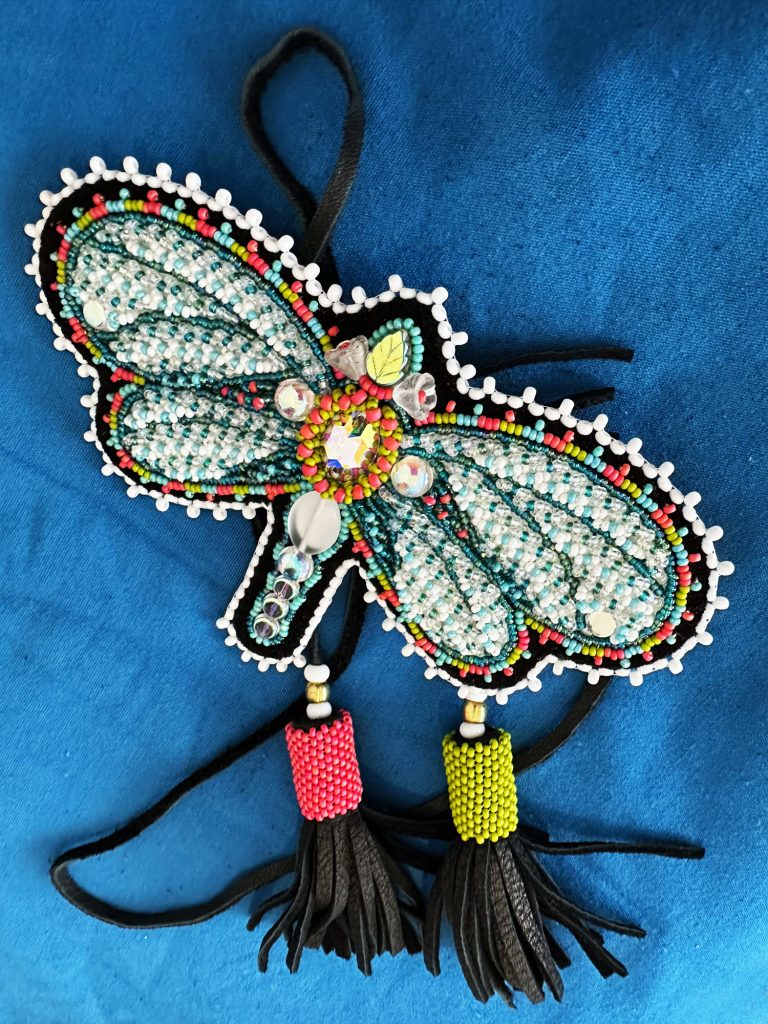 Dragonfly Dreams is a wearable pendant or medallion. The techniques include raised or embossed bead embroidery and tubular peyote. The ground materials are black velveteen, and commercially tanned deer hide.
Technique: Raised and embossed bead embroidery and tubular peyote :: Skill Level: All Levels :: Pre-Work: None :: Size: 6" x 3½" pendant:: Kit Costs: $75
---
403: Welcome Through the Seasons by Pat Armour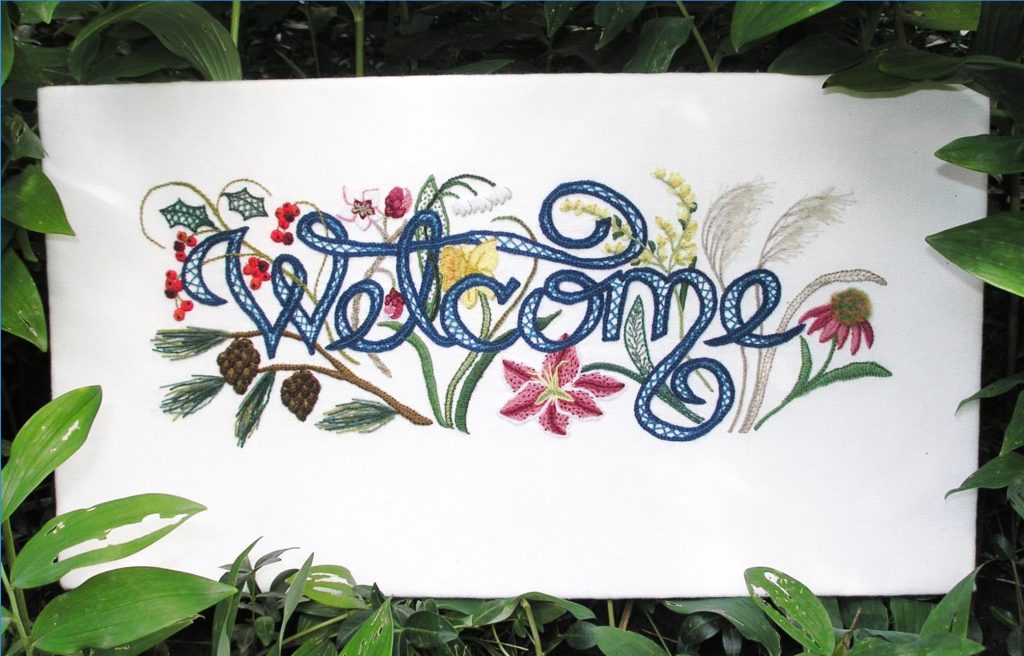 Create this lovely crewel piece to "welcome" guests into your home. The background of realistic and fanciful botanicals follows the four seasons behind the flowing lettering. Pine branches for winter, daffodils for spring, goldenrod for summer and coneflowers for the fall are just some of the plants. Thirty colours of Appleton crewel wool are worked on a ground of white linen twill.
A perfect piece for confident beginners to crewel and those looking for a sampler of surface stitches.
Technique: Crewel Embroidery :: Skill Level: Intermediate :: Pre-Work: None :: Size: 11" x 20" :: Kit Cost: $125
---
404: Cloth to Codex-Mixed Media with Books & Scrolls by Susan Purney Mark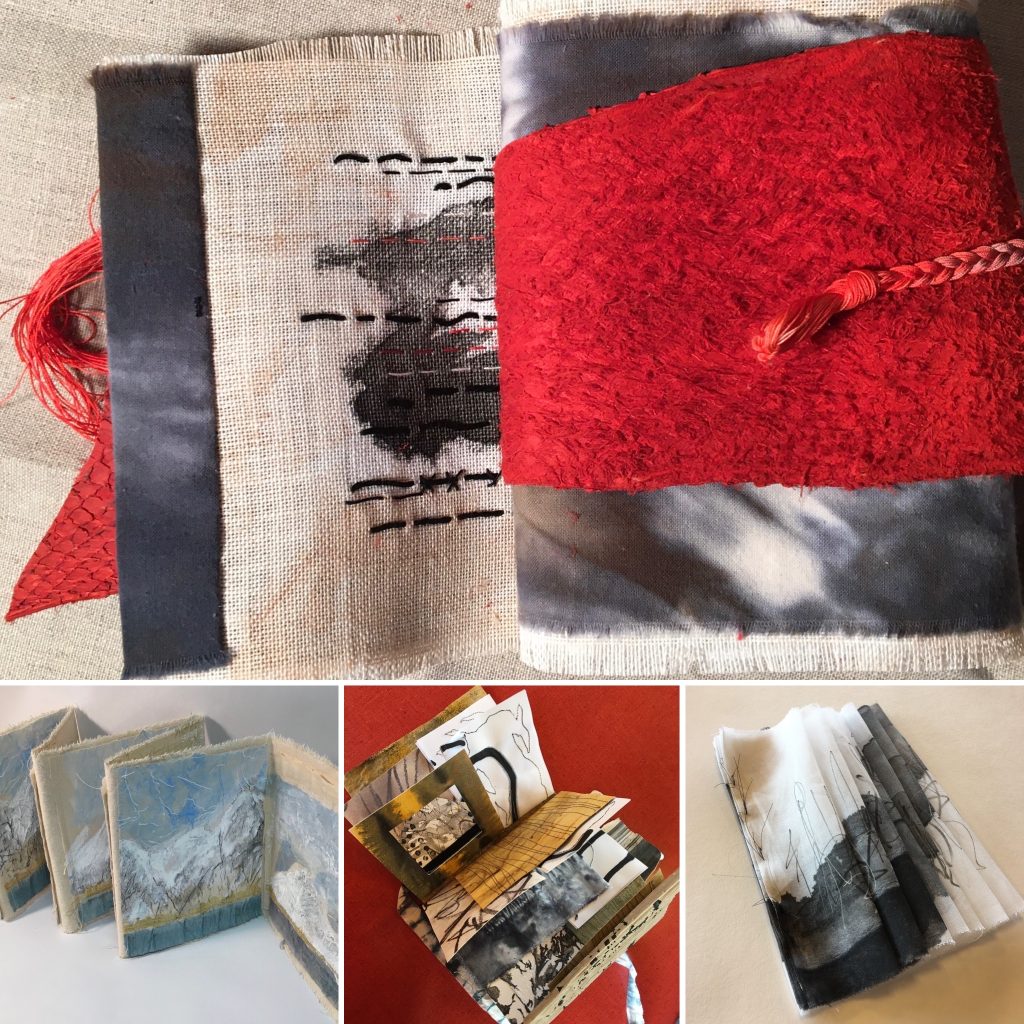 In this workshop, students will create one or more books, folios or scrolls using various surface designs and stitch techniques. Students will experiment with paints and inks, stencilling, altering and adding to different surfaces, and combining paper and fabrics to create foundations for more marks, stitches and colour. Students can also eliminate areas by cutting back and opening pages and turning them into windows, creating alternative shapes and unusual books or scrolls.
Each student will explore their ideas and create a unique piece.
Technique: Mixed Media/Colour & Design :: Skill Level: All Levels :: Pre-Work: None :: Size: 8"x 8" – 3-D :: Kit Costs: $25
---
405: Stitching Only

Enjoy the camaraderie and activities of the seminar while you stitch on your own projects. Stitching-only registrants will have a dedicated space for stitching with the same breaks and door prize draws as class registrants.