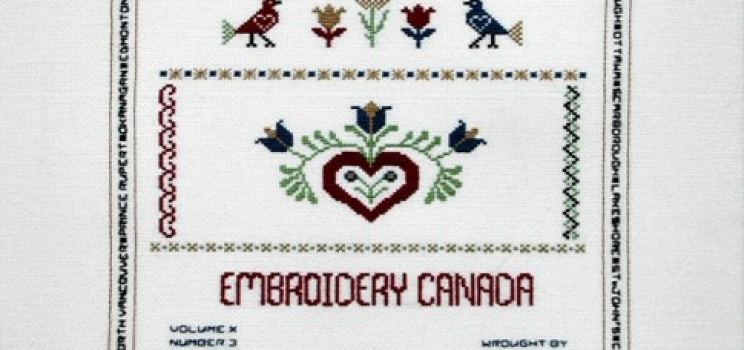 SAM-13003
Estimated Date Stitched:
1994
Estimated Age of Stitcher:

Size of Sampler:
Width: 24in
Height: 23in
Description:

Was framed in a matte silver frame and matted in deep blue silk. The mat warped over time and the sampler was removed from the frame and mat.
Condition: Excellent
Description of condition:

Approximate thread count:
32
Embroidery thread type:
cotton, silk, other
Description of alphabets:

Number of sets of numerals:
Motifs: other**Klaster blocks
Type of stitches: other – Variety including hardanger, pulled thread, freestyle, applique, beading, cross stich, drawn thread, needle lace
Name or initials on sampler:
Verse or Inscription:

Connie Wilks – President – 1992-1994
The pink may fade, the tulip wither, but the work of your hands will live forever…
Our embroidered heritage – EAC – 1973-1993
94 – Rivers of friendship
In the garden of my heart ¬ my spirit sows the needle's art
Photographs
Description of photographs:

Sent previously
There was a duotang binder with information about each square. It has been lost.
This sampler was prepared by each EAC chapter in 1994 and presented to me on my retirement as EAC president in 1994 with a special interest in samplers, I was thrilled and humbled to receive it.
Reference numbers: (Museum, archive or other references associated with sampler)