ARMOUR, Pat

(Active Teacher) Pat specialises in crewel, basic design and appliqué. She has a BA in Fine Arts from the University of Guelph and has continued to take drawing and design courses. The EAC individual Metal Thread course and the Beginner Crewel course helped refine her skills and develop a love for these techniques. Watching fellow stitchers struggle with design led her to develop a basic design course. Pat's mother started her stitching at an early age and her love of and dedication to the threaded needle continue to grow with the guidance and support of EAC and the Toronto Guild of Stitchery.
BEAMISH, Kim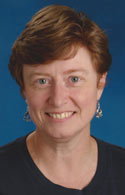 (Active Teacher) Kim's specialties include Hardanger, blackwork, cross stitch, surface embroidery, pulled thread and drawn thread and she holds a Master Craftsman certificate in counted thread with EGA. Her designs have been published in ANeedle Pulling Thread, Stitch with the Embroiderers' Guild, Just Cross Stitch, Cross Stitch & Needlework and Inspirations.
BERLIN, Tanja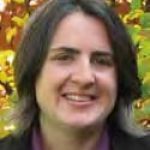 (Active Teacher) After I did my three-year training in hand embroidery at the Royal School of Needlework, I stayed another two years in the workroom gaining more experience in hand embroidery. (I was doing restoration, conservation and commission work plus teaching embroidery.) I then took a break to travel, met my now husband, Russ, in Australia. We settled in Russ's home city, Calgary. I have been teaching since 2000. I also run my own website where I sell my embroidery designs and give online/cyber classes in hand embroidery.
BERTELSEN, Deanna G.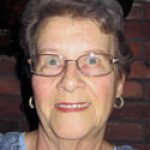 (Course Counsellor) Deanna has studied many forms of embroidery with EAC correspondence courses and national and international teachers and now finds her greatest joy in dimensional embroidery. She is the designer and author of the EAC's Intermediate Group Correspondence Course in Stumpwork. Deanna has taught at EAC seminars in Victoria, Regina and Truro.
COLE, Alison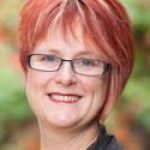 (Active Teacher) Alison lives near Melbourne, Australia and has been embroidering for most of her life and teaching Goldwork and Stumpwork embroidery for the past 18 years. She is a member of The Embroiderers Guild, Victoria (Australia) where she teaches Intermediate Certificate and Masterclass in Stumpwork and Intermediate Certificate in Goldwork. She is also a member of EAC and EGA. She has won numerous awards for her work, written for a variety of international magazines and has self-published three books with a fourth on the way. A specialist embroidery tutor, her work is renowned worldwide. Alison's website.

DEARBORN, Karen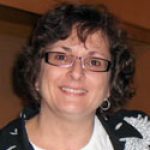 (Active Teacher) Karen is a needlework designer and teacher living in Victoria, BC. After years of keeping scrapbooks filled with ideas, Karen's vision of taking her designs from hobby to profession became a reality in 2009. Karen has taught for her local guild, other EAC guilds, the Northwest Sampler Guild and Embroiderers' Guild of America. She draws her inspiration from folk art and traditional samplers. Karen brings a diverse background to the finishing of her designs, utilizing techniques from advanced garment construction to ensure that your stitched piece will survive years of regular use.

DIUGUID, Katherine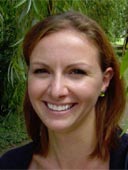 Katherine has completed the Royal School of Needlework Certificate of Technical Hand Embroidery and studied embroidery for a Master's degree. She is an Assistant Professor of Art and Design at NC State University. Her research focuses on stitch: Stitch as decoration as seen in embroidery, Stitch as structure as seen in hand dressmaking and tailoring, and the history and development of stitch in the US, UK, and France. Her most current research addresses color theory and interactions within stitching, especially Goldwork embroidery. She has taught at Inspiring Threads 2016 for EAC, workshops at EGA and local workshops for museums. She cannot remember a time in her life that she was not stitching something.

DOUGLAS, Jeannette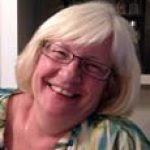 (Active Teacher) Jeannette, of Jeannette Douglas Designs in Calgary, Alberta, has been sharing her love of needle and thread since 2002, specialising in counted thread techniques and cross stitch. Jeannette's design business began in 1998 with the start of the Canadian Journey Series and since then, her career has catapulted her to the forefront of embroidery design. She has taught students from coast to coast across North America, as well as in the UK and in Holland (in Dutch). Visit her website.

GILBERT, Barbara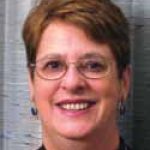 (Active Teacher) Barbara is known for her love of embroidery. She is a career teacher and has taught all ages, from young Brownies to mature students. She brings her enthusiasm for textiles and stitchery to each class. She co-authored the EAC Group Correspondence Course in Beginner Canvas, Youth Correspondence Courses, and the Teacher Certificate Programme. She is a course counsellor for EAC and a past president of the organization.

GILL, Joyce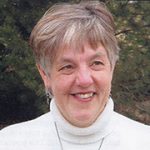 (Active Teacher) I was born in PEI and spent most of my life in the Atlantic region. I have been involved in various art/craft activities throughout my life. I owned and operated The Needle Nut for ten years. I am a charter member of LSNAG (Lady Slipper Needle Arts Guild), and have served on the EAC Board as Regional Director, Vice President, President and Past President.

GRANT, Dorita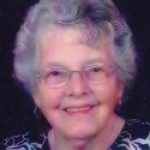 (Course Counsellor) Dorita received her teacher's certificate from The National Standards Council of American Embroiderers. She has several historical textile hangings displayed in Victoria buildings and is well known for her sculptured clay dolls depicting the local Pacific Northwest Indian costumes. She has taught at the Art Gallery of Greater Victoria, Camosun College, local recreation centres as well as EAC seminars and chapters across Canada. Dorita has co-authored the Crewel Correspondence Courses as well as the Surface Stitchery Youth Correspondence Course. Dorita continues to be a Counsellor for these courses.

HOPE, Jose
José Hope has been an active embroiderer since 1984. She has taught individuals and given workshops for groups over the years. José's love for needlework has led her to collecting whitework pieces while studying the various whitework techniques. She has given talks on her needlework accessories and on her Whitework collection in hopes of inspiring others to collect and enjoy old textile pieces. José has completed the EAC Teaching Certificate course. José enjoys sharing her needlework talents with others. Classes she has taught include Schwalm – Beginner and Intermediate, Beginner Pulled Thread, Canvas Embroidery, Finishing Techniques, and Cross Stitch.

LACHANCE, Linda

(Active Teacher) Linda currently owns and operates Northern Pine Designs, a needlework business (established in 1987) featuring original counted cross stitch designs with a Canadian flavour and geometric and textured Canvaswork designs. Linda has taught extensively in the United States and Canada at guild workshops and at national seminars: EAC Seminars in St John's, 1996, and Calgary, 2001, American Needlepoint Guild National Seminars in San Diego, 1998, Atlanta, 1999, and Kansas City, 2000, "Fibre Potpourri" at Olds, AB, 1997. Linda has published articles in magazines for Embroidery Canada, Needlepoint News, Needlepointers and Crafts Plus. Five designs have been published by Rainbow Gallery. Many of her designs are self-published through Northern Pine Designs.

McBAIN CUYLER, Linda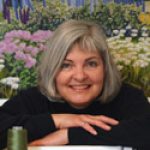 (Active Teacher) Linda is a full-time artist who enjoys sharing her love of colour, art and design through her free motion machine embroidery classes. Generally her method begins with taking photographs of nature which are edited and interpreted in the resulting embroidery. To add texture and detail, threads are added to the painted background. Both beginners and more experienced stitchers can benefit from her 20 years of experience in design and at the sewing machine. She hopes that by taking her classes you will not only gain skills that will carry over to other projects but have fun. Remember that if art is the cake, creativity is the icing! An avid fibre enthusiast, Linda has been a member of the Edmonton Needlecraft Guild executive for over 20 years and also served as president. She has professional experience as an interior designer and a commercial embroidery and banner designer. She is currently an exhibiting member of the Alberta Craft Council, dividing her time between exhibitions, craft shows and teaching. Visit Linda's website.

McCRINDLE, Helen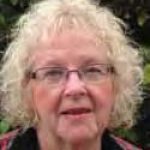 (Active Teacher) Helen is a longtime member and past president (1990-1992) of EAC, and has spent many years teaching and designing crewel embroidery as well as other techniques. A certified teacher of crewel embroidery, she also graduated in Fine Arts and holds a degree in Library and Information Science. Helen is one of the authors of the three EAC individual crewel correspondence courses — basic, intermediate and advanced levels. After giving students a grounding in traditional crewel techniques, she assists her students in exploring comtemporary applications.

MELDRUM, Claire
(Active Teacher) Claire Meldrum has been smocking, sewing and designing for more than a decade. She specializes in smocking and heirloom sewing. She has been published in a variety of magazines including Threads, Sew Beautiful, and Sew News. She is a member of EAC and SAGA where she teaches Perfect Picture Smocking. She blogs at www.clairemeldrum.ca

MITCHELL, Carolyn

(Active Teacher) Carolyn was a full-time needlework shop owner for 20 years and has been a designer and teacher of embroidery for over 35 years. She holds a NSCAE teaching certificate and was the EAC Education Director 1990-1994. She has been an EAC counsellor and author since 1987. She is a national and international teacher. Her exploration of fibres, colours and textures are apparent in her designs for Canvaswork, Blackwork and Hardanger as she merges different forms of stitchery on canvas. She enjoys sharing, observing and encouraging her students to cultivate their knowledge and growth in their embroidery fields.

Carolyn's website.
PODL, Eleanor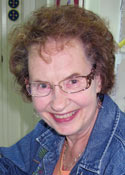 (Course Counsellor) Eleanor has been actively engaged in various types of embroidery for many years. She received her Intermediate Certificate in Colour from CAE and is an EGA Certified Teacher in Quiltmaking. Eleanor has been teaching embroidery, quiltmaking and appliqué both locally and nationally for the past 30 years. Eleanor is now specializing in small fabric landscapes and multimedia techniques using both paper and fabric. She is member of EAC and the Regina Stitchery Guild. Eleanor is the author of the EAC Group Correspondence Course for Embellished Crazy Patchwork and is counsellor for that course and EAC Silk Ribbon Embroidery and Colour for Embroidery.

ROUTLEY, Janice E.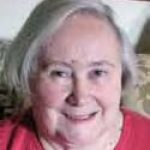 (Course Counsellor) Janice is one of the founding members of the Regina Stitchery Guild and has 40 years of teaching experience. She has served on the EAC Board in the past and has been an appointee in charge of the Heritage Collection since 1991. She is also a counsellor and author for several EAC correspondence courses and has taught at past Seminars. She has been the recipient of the Leonida Leatherdale Award twice since its inception in 1983.
SALT, Lorene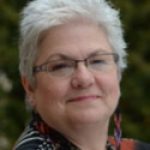 (Active Teacher) Lorene is an award-winning stitcher whose favourite medium is canvaswork. She is a graduate of Ryerson Polytechnical University in the Fashion Merchandising and Design program. She is also an avid beader and jewellery maker. She has completed the Basic, Intermediate and Advanced Canvaswork courses through EAC. She has taken many cyber classes and regular courses at the EAC and ANG national seminars. She now designs and teaches. Lorene enjoys watching a piece come alive through colour and texture.
SCOTT, Diane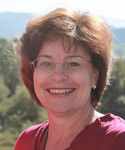 (Active Teacher) Diane was born in Toronto, and has lived in Oakville, a community west of the Greater Toronto Area, for 27 years, except for a 1½-year stay in Nova Scotia. While there, she was introduced to the threaded needle and all its possibilities, and joined the Marigold Guild of Needle Arts. She has taught several original projects at their annual retreat. She joined the Toronto Guild of Stitchery in 2011, and has taught several in-house workshops. She has also taught at the Creativ Festival in Toronto and at Olds in Alberta. She is currently the EAC treasurer.

SIRSKI-HOWELL, Joyce
(Active Teacher) Joyce holds a master craftsman in Counted Thread from EGA. Her interest in Ukrainian embroidery goes back over 40 years and she has taken many classes in this technique. Joyce has taught many classes over the years in Hardanger and Ukrainian embroidery techniques. Joyce has been heavily involved with Ukrainian dance costumes for the past 20 years. She works with various dance groups across Alberta. She also serves on the committee of the Ukrainian Catholic Women's League Museum of Edmonton. She has enjoyed teaching embroidery to elementary school children for nearly 25 years.

SOBIE, Laurrie
(Active Teacher)

STORIE, Carol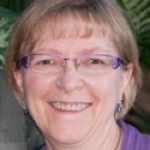 (Active Teacher) Carol has been stitching for over 25 years; she creates and teaches designs in many techniques of counted thread including hardanger, canvaswork, pulled thread and cross stitch. She incorporates specialty threads and a wide variety of stitches. She is a member of the Needlework Designers of Canada, EAC and the Regina Stitchery Guild. She previously served on the EAC Board of Directors as the Youth Embroiderers' Director. Carol has taught locally as well as at EAC Seminars in 2002 and 2010. She was the author of an EAC cyber course in 2006. Two of her designs have been published in Embroidery Canada and several were featured in Grainews as part of a regular column.
VANT ERVE, Margaret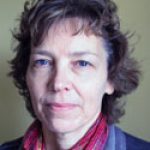 (Active Teacher) Margaret is a full-time artist whose work depicts the Canadian landscape through the medium of textile paints and hand and machine embroidery. She studied textile art and design at Sheridan College and the Ontario College of Art and is a certified teacher with EAC. She has taught workshops to EAC guilds, quilt guilds, colleges and privately. Her book, Window Gardens in Bloom (C&T Publishers), was released in 2005. More recently, she has become a teacher with artcraftedu.com. To learn more about Margaret, go to her website.